New policy aims at liquor-free Kerala, high-consumption state where liquor is a key driver of the economy. A look at the business, the policy and the implications
Kerala's Congress-led government has taken up a new liquor policy, ratified Wednesday, which aims at making the state liquor-free in a decade. Certain areas remain undecided, such as what happens to beer and wine parlours and clubs that serve alcohol, but the immediate, most crucial aspect of the policy is a decision to close down all bars in hotels with a rating below five stars. It is a move that has been challenged in court.
It comes in a state that has the country's highest per capita consumption of liquor, 8.3 litres a year. On the flip side has been a series of reports of alcohol-related crimes, often within families, and health issues. Limits on bar hours and blocking of liquor licences for retail outlets and certain bar hotels having failed to end these problems, state Congress president V M Sudheeran has led the liquor-free-state campaign, which culminated in the policy.
the Business and the politics
The IMFL business has thrived in Kerala for decades, starting before it became a state in 1956. The real boost, however, came in 1996 when the state government banned country arrack. From 411 bar hotels then paying an annual licence fee of Rs 10 lakh each, the industry began to grow alongside tourism, with the annual fee reaching Rs 23 lakh last year.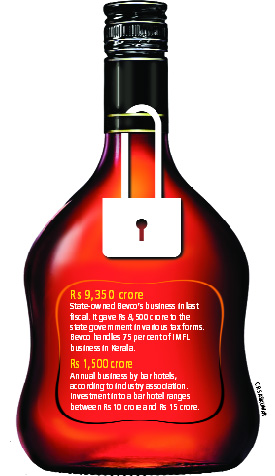 Kerala has 753 licensed bars, of which 418 have remained shut since April, while 312 will be shut on September 12 as a result of the new policy. The licences of seven other bar hotels are pending in court — that case does not relate to the newest policy — while five-star hotels have the remaining 16 licences, the only ones that will survive after September 12.
The decision to close down all other bars has arisen out of an old debate over the evolving standards of bar hotels. Under the first set of norms set in 1956, liquor licences were given to quality restaurants that served a non-Kerala menu and had at least three rooms. In 1980, the Left government stipulated that a hotel seeking a liquor licence should have a restaurant and 10 rooms; in 1985-86, the Congress government gave bar hotels a two-star rating.
The matter