A warship with an aircraft black box detector was set to depart Australia today to join the search for the missing Malaysian jetliner, a day after ships plucked objects from the Indian Ocean to determine whether they were related to the missing plane.
None were confirmed to be from the plane, leaving searchers with no sign of the jet more than three weeks after it disappeared.
Twenty-nine Chinese family members, seeking answers from Malaysia's government as to what happened to their loved ones, arrived in Kuala Lumpur today, said Malaysia Airlines commercial director Hugh Dunleavy.
Two-thirds of the 227 passengers aboard Flight 370 were Chinese, and their relatives have expressed deep frustration with Malaysian authorities since the plane went missing.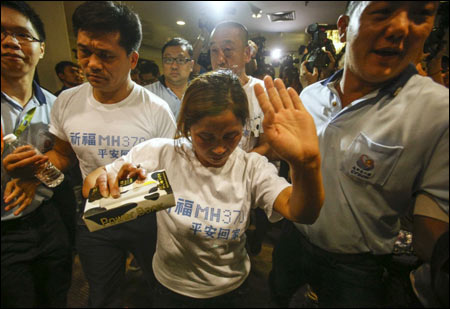 Chinese relatives of passengers onboard the missing Malaysia Airlines Flight MH370 leave after a meeting at the Holiday Villa in Subang Jaya, March 30, 2014. Ten ships and as many aircraft will search a swathe of the Indian Ocean west of Perth on Sunday, trying again to find some trace of missing Malaysia Airlines Flight MH370 after more than three weeks of fruitless and frustrating hunting.(Reuters)
It will still take three-to-four days for the Australian navy ship, the Ocean Shield, to reach the search zone, an area roughly the size of Poland about 1,850 kms to the west of Australia.
The Australian Maritime Safety Authority, which oversees the search, said the ship will be equipped with a black box detector the US Navy's Towed Pinger Locator, and an unmanned underwater vehicle, as well as other acoustic detection equipment.
Ships from China and Australia yesterday scooped up items described only as "objects from the ocean," but none were "confirmed to be related" to Flight 370, AMSA said.