Several dozen Chinese relatives of passengers on Flight 370 demanded Sunday that Malaysia apologize for its handling of the search for the missing plane and for the prime minister's statement saying it crashed in the southern Indian Ocean.
Holding up banners that read "We want evidence, truth, dignity'' in Chinese, and "Hand us the murderer. Tell us the truth. Give us our relatives back'' in English, the group staged a protest at a hotel near Kuala Lumpur just hours after flying in from Beijing.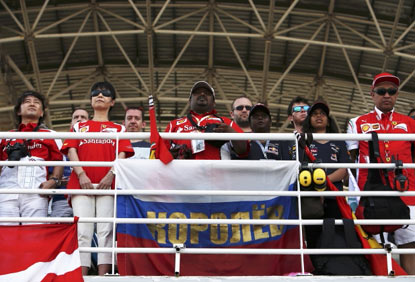 Fans stand during a one minute silence to show respect for the missing Malaysia Airlines flight MH370 before the start of the Malaysian F1 Grand Prix at Sepang International Circuit outside Kuala Lumpur, March 30, 2014.(Reuters)
Two-thirds of the 227 passengers aboard the Malaysia Airlines plane that disappeared March 8 en route to Beijing from Kuala Lumpur were Chinese, and the plane's disappearance has sparked broad outrage in China, with celebrities joining in and travel agencies announcing boycotts.
Flight booking website eLong said it was suspending Malaysia Airlines flight sales until the relatives are satisfied with the government's response. Last Wednesday, Chinese touring agency CYTS said it would stop offering tours to the country because of safety concerns.
Even popular actress Zhang Ziyi spoke out. "Malaysian government, you have hurt the entire world ... You have misjudged the persistence in seeking truth by the world's people, including all the Chinese,'' she wrote on her microblog.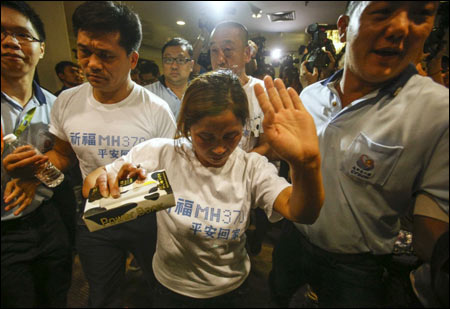 The protesters Sunday repeatedly chanted slogans in Chinese: "We want evidence! We want the truth! We want our relatives!''
Jiang Hui, the relatives' designated representative, said they wanted a government apology for what they see as missteps in the initial handling of the disaster as well as Prime Minister Najib Razak's statement that indicated the plane had crashed with no survivors. Jiang said the relatives felt the conclusion was announced without sufficient evidence.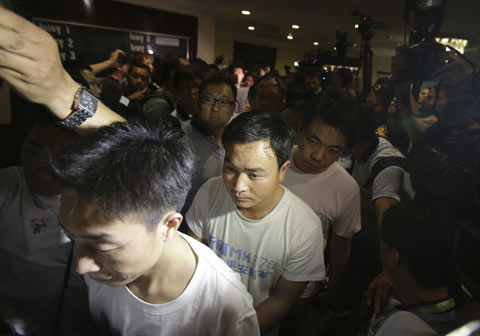 "We also request that Malaysia Airlines and the Malaysian government apologize for making the conclusion on March 24, without direct evidence or a sense of responsibility, that the plane was destroyed and people died,'' Jiang said.
He said the group wanted to meet airline and government officials, although he stopped short of saying that included Najib, as earlier proposed by some relatives.
Najib went on