Even 19 days after Malaysia Airlines MH370 plane disappeared into thin air, authorities and search and rescue people are left clutching at straws to explain the terrible tragedy and bring closure to the relatives of 239 people aboard who have been left wailing in a sea of uncertainty.
With rescue operations being fielded in terms of planes, ships and satellites, no credible clues have been found. In fact, a French satellite scanning the Indian Ocean for remnants of the missing jetliner found what it described as possible plane debris field containing 122 objects, which a top Malaysian official termed as "the most credible lead that we have." But after that, there has been no news and hours and days are passing fast, with the window open to finding the plane closing fast.
Also read: FBI says review of Malaysia Airlines jet computer files almost done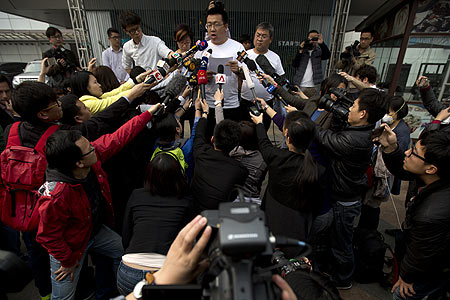 A representative of relatives of Chinese passengers on board Malaysia Airlines Flight 370, center, makes an announcement to journalists prior to a briefing with Malaysian officials at a hotel in Beijing. (AP)
Various floating objects have been spotted in the area by planes and satellites over the last week, including on Wednesday, when the Australian Maritime Safety Authority said three more objects were seen. The authority said two objects seen from a civil aircraft appeared to be rope, and that a New Zealand military plane spotted a blue object. Unsurprisingly, the rescue operation has been dubbed "the most complex, the most difficult in aviation history."
However, till today, no really solid piece of evidence has emerged as none of the objects were seen on a second pass, a frustration that has been repeated several times in the hunt for Malaysia Airlines Flight 370.
According to the experts, "The weather in this part of the world is far more difficult than that experienced in the search for (Air France) 447.''
He said huge swells were common, particularly during the southern hemisphere's upcoming winter. "There's a real urgency to find something as quickly as possible because through the winter months, they'll probably have to suspend the search."
And worse is yet to come.
Australia's Bureau of Meteorology warned that the weather is expected to deteriorate again Thursday, with thunderstorms, low clouds and strong winds on the way.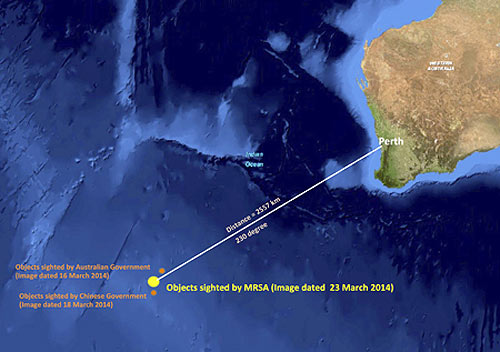 Graphic released by the Malaysian Remote Sensing Agency shows