A Chinese aircraft flying over the search zone for Malaysia Airlines Flight MH370 on Saturday spotted several objects floating in Indian Ocean, including two bearing colors of the missing plane, but it was not immediately clear whether they were related to the investigation, officials said.
A Chinese Ilyushin IL-76 spotted three floating objects, China's official Xinhua News Agency said, a day after several planes and ships combing the newly targeted area closer to mainland Australia saw several other objects.
Malaysian Defense Minister Hishammuddin Hussein told reporters near Kuala Lumpur after meeting several families of passengers on the Malaysia Airlines plane that there was no new information on the objects spotted Friday, which could just be just sea trash or could be from the jetliner, which went missing three weeks ago.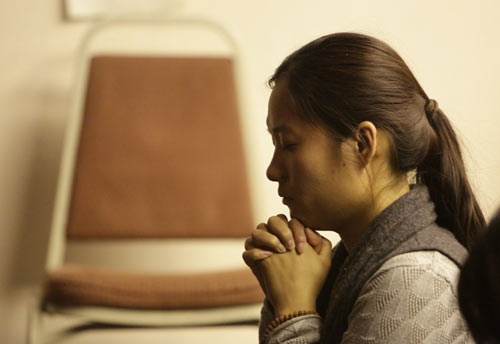 A relative of a passenger onboard Malaysia Airlines Flight MH370 prays at a praying room at Lido Hotel. Australian Prime Minister Tony Abbott said there was no time limit on the hunt for Malaysia Airlines Flight MH370, missing for more than three weeks in the Indian Ocean with 239 people on board.(Reuters)
"I've got to wait to get the reports on whether they have retrieved those objects. ... Those will give us some indication," said Hishammuddin, who was accompanied by his wife and children as he visited the relatives at a hotel in Putrajaya, Malaysia.
Relatives and friends of the passengers onboard ill-fated Malaysia Airlines MH370 missing plane said they were tortured by the uncertainty over the fate of their loved ones, as they wait for hard evidence that the plane had crashed.
"This is the trauma of maybe he's dead, maybe he's not. Maybe he's still alive and we need to find him. Maybe he died within the first hour of the flight, and we don't know," Sarah Bajc, the American girlfriend of U.S. passenger Philip Wood, said in Beijing.
"I mean, there's absolutely no way for me to reconcile that in my heart," she said.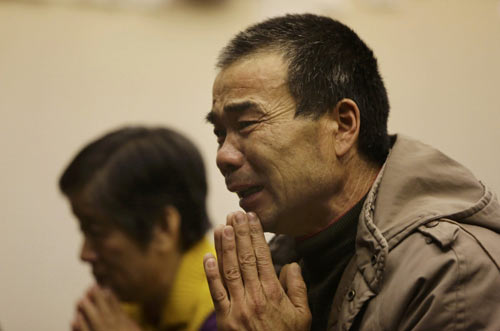 A relative of a passenger onboard Malaysia Airlines Flight MH370 cries as he prays at a praying room at Lido Hotel, in Beijing March 31, 2014. Australian Prime Minister Tony Abbott said there was no time limit on the hunt for Malaysia Airlines Flight MH370, missing for more than three weeks in the Indian Ocean