Malaysia's prime minister on Thursday arrived at the Australian air force base serving as a hub for the hunt for the Malaysia Airlines Flight Flight MH370, as the coordinator of the multinational search effort warned that the hunt for Flight MH370 was one of the most complicated searches in history.
Malaysian Prime Minister Najib Razak met with his Australian counterpart, Tony Abbott, at the base near the west coast city of Perth, and received a briefing by Angus Houston, the head of a joint agency coordinating the search.
''This is one of the most demanding and challenging search and rescue ... operations that I have ever seen and I think probably one of the most complex operations of its nature that the world has seen,'' Houston told Najib and Abbott.
Najib's trip to Perth reinforces the reality that while Australia is coordinating the ocean search, the investigation into the tragedy ultimately remains Malaysia's responsibility.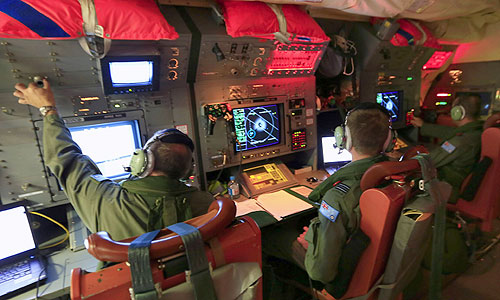 Members of the Royal Australian Air Force No. 292 Squadron man their stations aboard a maritime patrol aircraft as they continue searching in the southern Indian Ocean for the missing Malaysian Airlines flight MH370. (Reuters)
On Wednesday, however, officials warned that the investigation may never produce answers into why the Boeing 777 vanished on March 8 during a flight from Kuala Lumpur to Beijing. A frustrating dearth of information has plagued investigators from the moment the plane's transponders, which make the plane visible to commercial radar, were shut off.
Military radar picked up the jet just under an hour later, on the other side of the Malay Peninsula. Authorities say that until then, its ''movements were consistent with deliberate action by someone on the plane,'' but have not ruled out anything, including mechanical error.
Relatives of passengers aboard Malaysia Airlines Flight MH370 react after attending a video conference with the Malaysian government and Malaysia Airlines officials from Kuala Lumpur, at the Lido Hotel in Beijing. (Reuters)
Police are investigating the pilots and crew for any evidence suggesting they may have hijacked or sabotaged the plane. The backgrounds of the passengers, two-thirds of whom were Chinese, have been checked by local and international investigators and nothing suspicious has been found.
The search for the plane began over the Gulf of Thailand and South China Sea, where the plane's last communications were, and then shifted west to