Railway minister Sadananda Gowda outlined the Narendra Modi government's intent to engineer a course correction in the way the Indian Railways is run and in finding resources for its much-needed modernisation. In his maiden rail Budget, Gowda announced FDI in all areas except in running of trains, promised to expand Public private Partnership model to several new areas, set up a network of high-speed (bullet) trains, starting with a project between Mumbai and Ahmedabad.
Hailing the Rail Budget as 'futuristic and growth-oriented', which will suit 21st century India, Prime Minister Narendra Modi today said it is for the common people as it aspires for better service, speed and safety with focus on development of the country.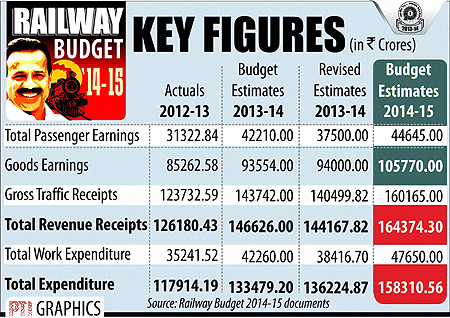 Stating that his ministry would soon seek cabinet approval for FDI in railways, the Railways minister said: "The bulk of our future projects will be... by the PPP model."
Gowda revised downwards the gross traffic receipts for national transporter for 20113-14 by Rs 942 crore and large increase in ordinary working expenses from the estimates provided in the February interim budget presented by the UPA government. So, the IR's operating ratio for last fiscal would be much worse than the previous estimate of 89.8%, at 94%.
The minister refrained from announcing new projects given that sanctioned projects are largely behind schedule and said that the focus would be on completing on-going projects, especially those meant to be completed this year. "Populist projects and mismanagement have brought Railways to point of funds crunch," the minister said.
Justifying the recent fare hikes, the minister said given the massive funds needed for expansion and modernisation and the paucity of internal generation and budget resources, there was a need to explore alternative sources of resource mobilisation.
No hike in fares, Railways to attract FDI
(PTI) Sparing passengers of any further fare hike, Railway Budget for 2014-15 proposes to attract private domestic and FDI in infrastructure projects and pursuing private-public partnership to boost the finances of the cash-strapped railways.
Having hiked fares to the tune of 14.2 per cent recently, Railway Minister Sadananda Gowda who presented the new government's first budget in Lok Sabha said he plans to leverage railway PSU resources by bringing in their investible funds in infrastructure projects.
He announced plans to introduce a bullet train in Mumbai- Ahmedabad sector and setting