With banks finding it difficult to identify new projects, amid high interest rates and rising non-performing loans, loan growth is expected to slow down to 14% in the current financial year and pressure on net interest margin would continue.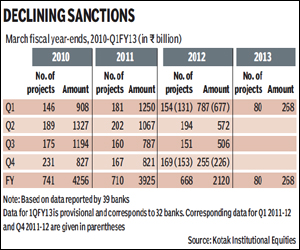 In the first three months to June 2012-13, loan sanctions by 32 banks for capex in the private sector was down 60% year-on-year at Rs 26,800 crore for 80 projects compared with R67,700 crore for 131 projects during the same quarter in 2011-12. However, sequentially while the amount sanctioned increased 20% in Q1FY13 compared with Q4FY12, the number of projects sanctioned fell drastically.
An analysis by Kotak Institutional Equities says these loans are large-ticket and there could be volatility across sectors. In September 2012, non-food bank credit increased by 15.9% year-on-year compared with the increase of 18.7% in September 2011. Credit to industry grew by 15.6% in September 2012 compared with 22.9% growth in September 2011. Deceleration in credit growth to industry was observed in all the major sub-sectors, barring chemical and chemical products, cement and cement products and paper and paper products. The growth rate in non-food bank credit was down at 17% during 2011-12 compared with 20.6% in 2010-11.
The report, after analysising ongoing and proposed capex in various sectors, cautious that the country faces a significant challenge in accelerating capex from the current levels and even from traditional sectors like power, road and telecom. In fact, current capex based on ongoing projects in power generation and distribution, roads and steel sectors is quite robust and these sectors are unlikely to see investments grow at the same pace reported over FY 2009-12. Similarly, in the first quarter of FY13, there was no planned capex for the textile sector.
In a earlier report titled 'Investment Cliff', the brokerage had underlined that even the Planning Commission's projection of $1 trillion of investment in the infrastructure sector during the twelfth five year plan (2013-17) appears optimistic. It says the three-fold increase in investment in the telecom sector and two-fold increase in the power sector compared with the eleventh five year plan is difficult to achieve given the likely slowdown in capex in both the sectors.
Moreover, companies' chiefs are still weary of the economic recovery despite a slew of reforms initiatives taken by the government and the leveraged balance sheets. The equity market has still not improved which could have helped in deleveraging