Captains of USD 100 billion IT industry are placing their bets on former Infosys top honchos Nandan Nilekani and V Balakrishnan in this Lok Sabha polls, expecting them to lead a change in political landscape and work towards job creation and economic growth.
While Infosys co-founder and former CEO Nandan Nilekani is fighting on a Congress ticket from Bangalore South, the company's ex-director Balakrishnan is contesting as Aam Aadmi Party candidate from Bangalore Central constituency.
In Photos Nandan Nilekani's Lok Sabha strategy: 8 top tech points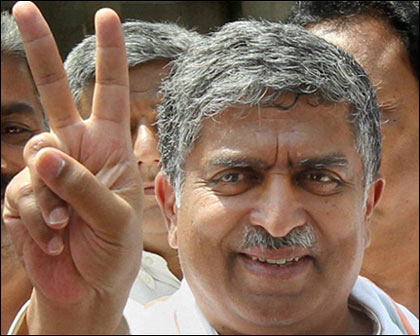 "I have known Nandan Nilekani for 30 years. The face to face competition between Infosys and Wipro was very evident but it's not often that we do admire a competitor as I did Nandan. What's amazing is his journey. Even well before politics was his contribution to UIDAI," says industry veteran Ashok Soota, who is now Chairman and Co-Founder of Happiest Minds Technologies.
In Photos Former Infosys honcho V Balakrishnan declares Rs 189-cr in assets
Soota, a former CEO of Wipro Infotech and Co-Founder of Mindtree Ltd, says: "Nandan has been an inspirational leader. His life, professional and personal experiences have prepared him to be a parliamentarian. India needs parliamentarians like him."
The two Infoscians enjoy tremendous support from top executives from across the IT sector, while both of them also have extended 'best wishes' for each other. However, their political support is confined to candidates of respective parties.
"I firmly believe that we need leaders like Nandan Nilekani and Balakrishnan in government for all of India and for economic growth and creation of jobs," says S Gopalakrishnan (Kris), another co-Founder of Infosys and currently the company's Executive Vice Chairman.
"Of course they will leverage IT better to provide effective services to citizens. IT is needed to empower people and give them access to affordable quality education and healthcare," Kris said.
T V Mohandas Pai, Chairman of Manipal Global Education and a former director of Infosys, is also confident of the political abilities of his two ex-colleagues. 
"Both of them are accomplished leaders. One hopes they will articulate the needs of the industry, especially the IT industry, in the Parliament. IT sector has created huge number of jobs in the country," said Pai.
Nilekani and Bala, who are up against entrenched rivals on