There's a slew of all-new high-end luxury SUVs ranging between Rs 20 lakh to Rs 3 crore which are worth the wait.
Porsche Macan
Price starting from: Rs 60-80 lakh; Engine: 3.0-litre diesel, 3.0-litre petrol
The Audi Q5-based Macan is Porsche's entry into the luxury compact SUV segment and will be positioned below the Cayenne. It will be launched in three forms, the Macan S, Macan Turbo and Macan Diesel S, and will compete against the BMW X3 and Volvo XC60. The Macan S is powered by a 3.0-litre turbocharged V6 petrol engine producing 335 bhp. The Macan Turbo gets a bigger 3.6-litre turbocharged V6 petrol engine that develops 394 bhp. However, it's the 254 bhp Macan S Diesel, with its 3.0-litre V6 diesel engine, that is likely to make up most of the sales in India. All models will be mated to Porsche's seven-speed, dual-clutch PDK automatic gearbox.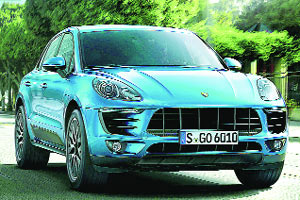 New Ford Endeavour
Prices starting from: Rs 20-25 lakh;
Engine: 2.2, 3.0-litre diesel
Ford unveiled the Endeavour concept a few months ago. Designed by Ford's team in Australia, the new SUV looks way more aerodynamic than the boxy-looking older car. It has still maintained its butch appearance though, with those massive wheel arches, big EcoSport-like grille and huge tyres. It's also got a lot of modern touches like the sleek, aggressive headlamps, and the sloping rear section. The new Endeavour will continue to be a seven-seater and will come with the option of 2.2-litre and a 3.0-litre diesel engines. There is also a new automatic gearbox on the cards. However, don't expect to see this new Ford SUV in showrooms any time before the end of 2014.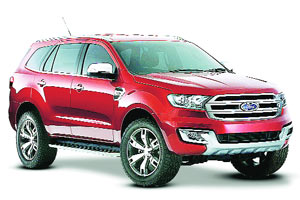 Jeep Grand Cherokee
Price starting from: Rs 60 lakh; Engine: 3.0-litre diesel
Jeep calls it the most awarded SUV of all time, and the Grand Cherokee makes a strong case for itself in a market dominated by German luxury SUVs. It competes pretty much head-on with them in terms of price, but there's a lot more equipment and a whole lot more off-road tech. Sure, many Grand Cherokee owners may not take their cars off-roading, but if they do, this car is more than capable of handling serious rock climbing. Under the hood sits a 237 bhp 3.0-litre V6 diesel engine mated to an eight-speed automatic transmission. It's incredibly stable at speed too, with a flat ride and