Three Australian planes took off at dawn Saturday for a third day of scouring the desolate southern Indian Ocean for possible parts of missing Malaysia Airlines Flight 370, now lost for two full weeks.
Australia promised its best efforts to resolve ''an extraordinary riddle,'' but two days of searching the seas about 2,500 kilometers (1,550 miles) southwest of Perth have not produced any evidence.
A satellite spotted two large objects in the area earlier this week, raising hopes of finding the Boeing 777 that disappeared March 8 with 239 people on board.
''It's about the most inaccessible spot that you could imagine on the face of the Earth, but if there is anything down there, we will find it,'' Prime Minister Tony Abbott said at a news conference in Papua New Guinea.
Also read: Search for missing Malaysia Airlines Flight MH370 resumes in remote southern Indian Ocean
''We owe it to the families and the friends and the loved ones of the almost 240 people on Flight MH370 to do everything we can to try to resolve what is as yet an extraordinary riddle,'' he added.
A total of six aircraft were to search the region Saturday: two ultra long-range commercial jets and four P3 Orions, the Australian Maritime Safety Authority said.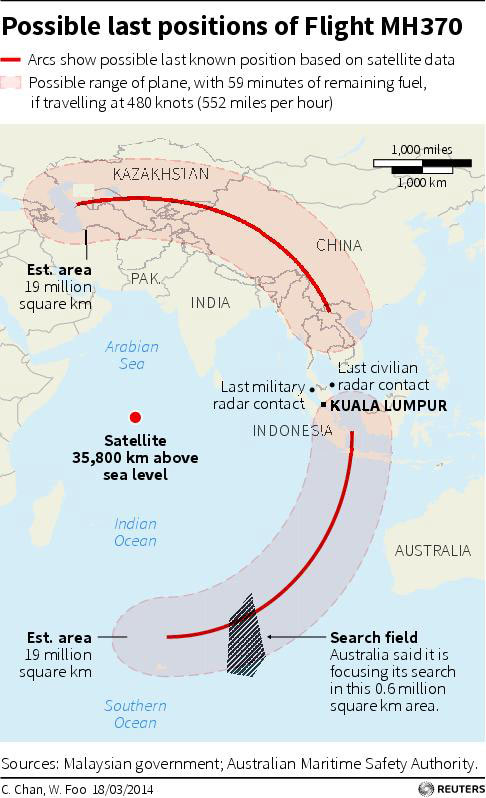 Because of the distance to the area, the Orions will have enough fuel to search for two hours, while the commercial jets can stay for five hours before heading back to the base.
Two merchant ships were in the area, and the HMAS Success, a navy supply ship, was due to arrive late Saturday afternoon. Weather in the search zone was expected to be relatively good, with some cloud cover.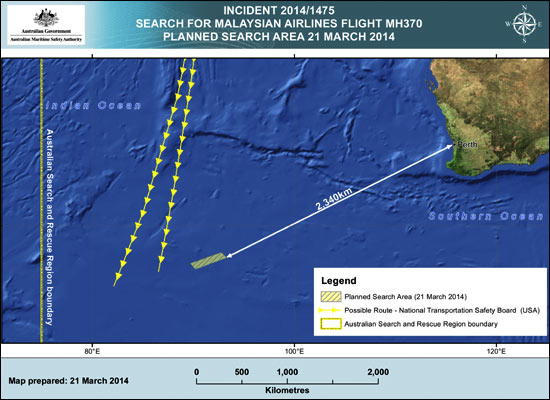 A graphic provided by Australian Maritime Safety Authority shows an area in the southern Indian Ocean that the AMSA is concentrating its search for the missing Malaysia Airlines Flight MH370. (AP).
Two Chinese aircraft are expected to arrive in Perth on Saturday to join the search, and two Japanese planes will arrive Sunday. A small flotilla of ships from China is still several days away. The plane passengers included 154 Chinese.
AMSA officials also were checking to see if there was any new satellite imagery that could provide more information. The satellite images were taken March 16, but the search in the area