Australian Prime Minister Tony Abbott said there was no time limit on the hunt for Malaysia Airlines Flight MH370, missing for more than three weeks in the Indian Ocean with 239 people on board.
A total of 20 aircraft and ships will resume scouring a massive area in the Indian Ocean some 2,000 km (1,200 miles) west of Perth on Monday, search authorities said.
"I'm certainly not putting a time limit on it," Abbott told reporters after meeting flight crews at Pearce airbase in Perth.
Malaysia Airlines MH370 plane: Latest photos
"The intensity of our search and the magnitude of operations is increasing, not decreasing," he said, adding that searchers owed it to grieving families of passengers to continue the hunt.
Families have strongly criticised Malaysia's handling of the search and investigation, including the decision last week to say that, based on satellite evidence, the plane had crashed in the southern Indian Ocean.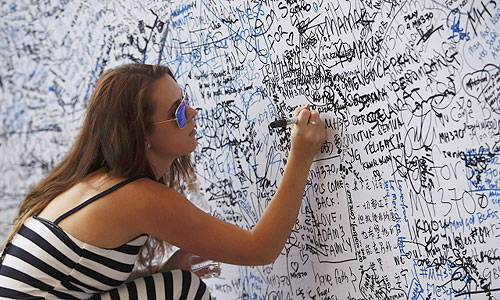 A woman writes on a wall dedicated to the passengers of the missing Malaysia Airlines flight MH370 during the the Malaysian F1 Grand Prix at Sepang outside Kuala Lumpur. (Reuters)
Abbott rejected suggestions his Malaysian counterpart had been too hasty to break that news, given that no confirmed wreckage from the plane has been found and its last sighting on radar was northwest of Malaysia heading towards India.
"No, the accumulation of evidence is that the aircraft has been lost and it has been lost somewhere in the south of the Indian Ocean," he said.
Malaysia says the plane, which disappeared less than an hour into a flight from Kuala Lumpur to Beijing, was likely diverted deliberately far off course. Investigators have determined no apparent motive or other red flags among the 227 passengers or the 12 crew.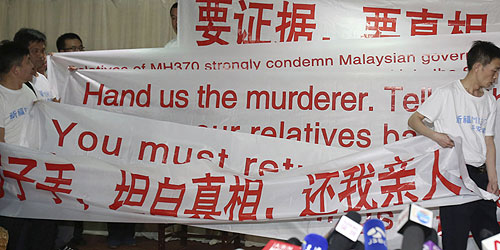 Newly arrived Chinese relatives of passengers on board the missing Malaysia Airlines flight MH370 arrange banners before speaking to reporters at a hotel in Subang Jaya, Malaysia. (AP)
China has also been critical in Malaysia's handling of the case, but in a sign of softening, the official China Daily said it was understandable that not all sensitive information could be made public.
"Although the Malaysian government's handling of the crisis has been quite clumsy, we need to understand that this is perhaps the most bizarre incident in Asia civil aviation history," the editorial on Monday read.
"Public opinion should not blame the