will be waived for grieving relatives wishing to come to Australia, Abbott later told Parliament today.
In a press conference, Malaysia Airlines CEO Ahmad Jauhari Yahya extended condolences to the families and said further financial assistance would be provided to them as the search continued.
When asked when asked what really happened to the ill-fated plane and why it deviated its course, Yahya said: "We do not know why, and we do not know how this terrible tragedy happened. But as the Malaysia Airlines family, we are all praying for the passengers and crew of Flight MH370.
Meanwhile in Beijing, families of the passengers on board the jet held a two-hour protest in front of the Malaysian Embassy demanding the truth behind the incident.
The protesters tried to enter the premises, threw water bottles, showed placards and chanted slogans like "we want the truth".
China has demanded Malaysia to provide satellite data which led to its judgement that the plane ended in the Indian Ocean.
Aircraft and ships from over 20 nations have been hunting for the Boeing 777-200 since it disappeared on March 8.
The Beijing-bound jet was carrying 239 people, including five Indians, an Indo-Canadian and 154 Chinese nationals - when it went missing an hour after take off from Kuala Lumpur.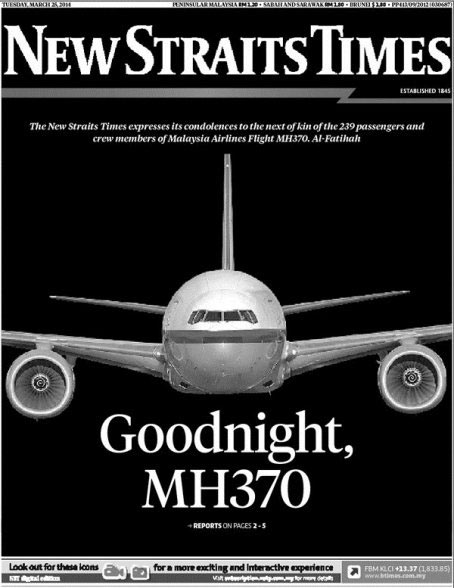 The New Straits Times' darkened front page showed an aircraft above the words "Goodnight, MH370" -- a reference to the last message from the cockpit, "All right, good night", before the Malaysia Airlines jet lost contact on March 8.
Also read: Malaysia Airlines Flight MH370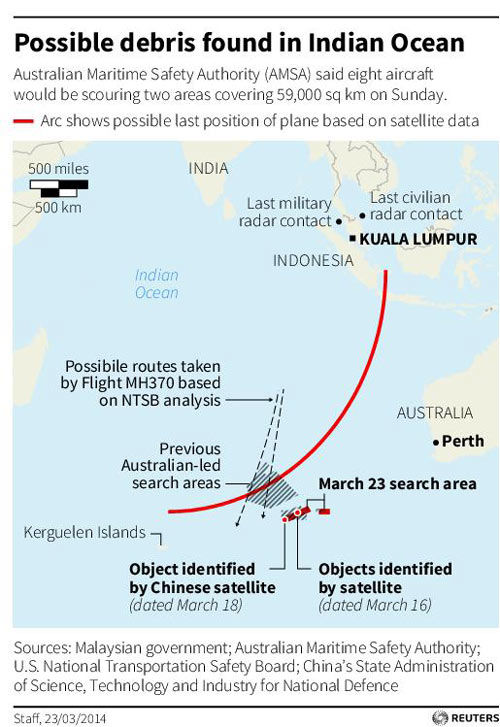 Updates with latest search area and possible debris location for Malaysian Airlines flight MH370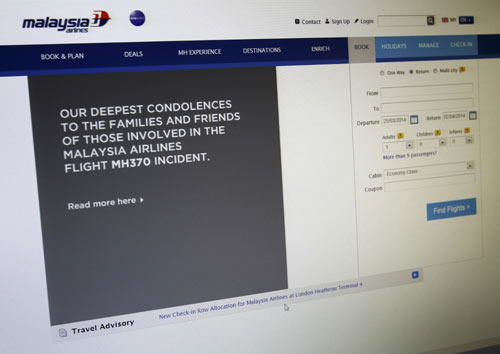 A sympathy message is displayed at the webpage of the Malaysia Airlines website, in Shah Alam, outside Kuala Lumpur, Malaysia, Tuesday, March 25, 2014. It was the grim news that families of the missing Malaysian Airlines flight had dreaded for weeks, and on Monday they heard it from Malaysia's prime minister: new analysis of satellite data indicates the missing plane crashed into a remote corner of the Indian Ocean. (AP)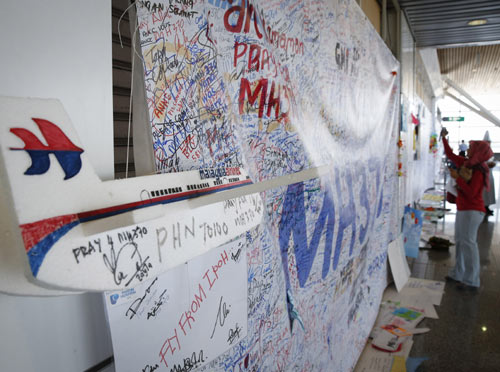 A model plane of MH370 on display at well wish board for passengers aboard a missing Malaysia Airlines plane at Kuala Lumpur International Airport in Sepang, Malaysia, Tuesday, March 25, 2014. China