Chinese and Australian planes on Monday spotted several objects in an area identified by multiple satellite images as containing possible debris from the missing Malaysia Airlines Flight MH370, boosting hopes the frustrating search in the southern Indian Ocean could turn up more clues to the jet's fate.
Australian Prime Minister Tony Abbott said the crew on board an Australian P3 Orion had located two objects in the search zone _ the first grey or green and circular, the second orange and rectangular.
An Australian navy supply ship, the HMAS Success, was on the scene Monday night trying to locate and recover the objects, and Malaysia's Defense Minister Hishammuddin Hussein said the vessel could reach them within a few hours or by Tuesday morning.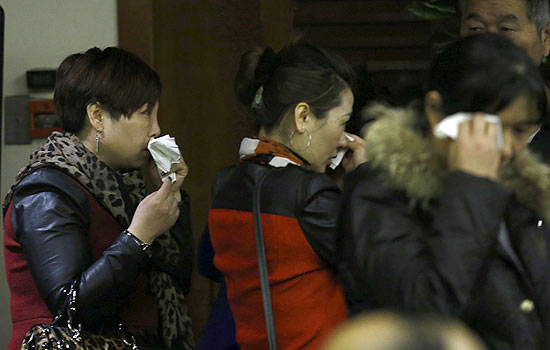 Women cry as they enter a room to attend a briefing by the Malaysian government regarding the missing Malaysia Airlines Flight MH370 at a hotel in Beijing. (Reuters)
Separately, the crew aboard one of two Chinese IL-76 aircraft combing the search zone observed two large objects and several smaller ones spread across several square kilometers (miles), Xinhua News Agency reported. At least one of the items _ a white, square-shaped object _ was captured on a camera aboard the plane, Chinese Foreign Ministry spokesman Hong Lei said.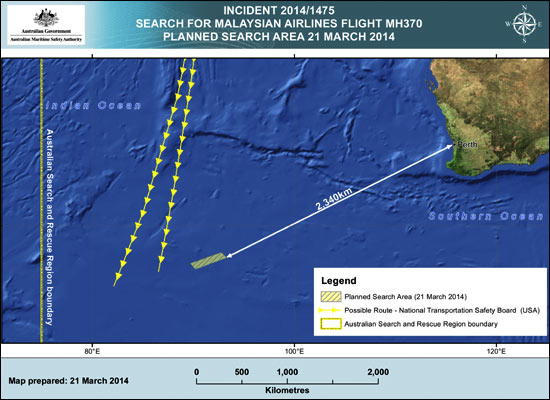 A graphic provided by Australian Maritime Safety Authority shows an area in the southern Indian Ocean that the AMSA is concentrating its search for the missing Malaysia Airlines Flight MH370. (AP).
"We are still racing against time,'' Hong said at a ministry briefing. "As long as there is a glimmer of hope, our search efforts will carry on.''
Also read: Search for missing Malaysia Airlines Flight MH370 resumes in remote southern Indian Ocean
China has redirected the icebreaker Snow Dragon toward the latest find, and that ship was due to arrive early Tuesday. Six other Chinese ships have been directed toward the search zone along with 20 fishing vessels that have been asked to help, Lei said.
Relatives of passengers aboard the missing Boeing 777 were avidly following news reports of the latest sightings, desperate for any word on the fate of loved ones.
"We're eager to learn more about this,'' said Wang Zhen who is staying at a hotel near Beijing. His father and mother, Wang Linshi and Xiong Yunming, were both aboard the flight as