A cluster of orange objects spotted by a search plane was just fishing equipment and not related to the missing Malaysia Airlines MH370 plane, officials said Monday, in the latest disappointment in the three-week hunt that Australia's prime minister said will continue indefinitely.
The crew of an Australian P-3 Orion saw at least four orange objects that were more than 2 meters (6 feet) in size on Sunday, and the pilot, Flight Lt. Russell Adams, dubbed the sighting their most promising lead in the search for Flight 370. But on Monday, Australian Maritime Safety Authority spokesman Jesse Platts said an analysis confirmed the objects "have nothing to do with the missing flight.''
It's a frustrating pattern in the hunt for the Malaysia Airlines Boeing 777, which vanished while flying from Kuala Lumpur to Beijing on March 8 with 239 people aboard: Search crews have repeatedly spotted multiple objects floating in the search area of the southern Indian Ocean, only for officials to later rule out links to the missing plane.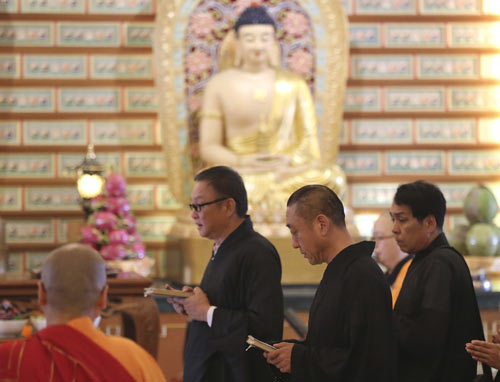 Chinese relatives of passengers on board the missing Malaysia Airlines flight MH370 say prayers at a Buddhist temple in Petaling Jaya, Malaysia, Monday March 31, 2014. Relatives from China are in the country to seek answers of what happened to their loved one on board flight MH370.(AP)
Australian Prime Minister Tony Abbott on Monday acknowledged the search for Malaysia Airlines plane was incredibly complex, but said officials were "well, well short'' of any point where they would scale back the hunt.
Malaysian Prime Minister Najib Razak plans to travel to Perth on Wednesday to see the search operations firsthand.
The search has evolved as experts sifted through the limited radar and satellite data, moving from the seas off Vietnam, to waters west of Malaysia and Indonesia, and then to several areas west of Australia.
"This is an extraordinarily difficult exercise. ... We are searching a vast area of ocean and we are working on quite limited information,'' Abbott said, adding that the best brains in the world and all the technological mastery is being applied to the task.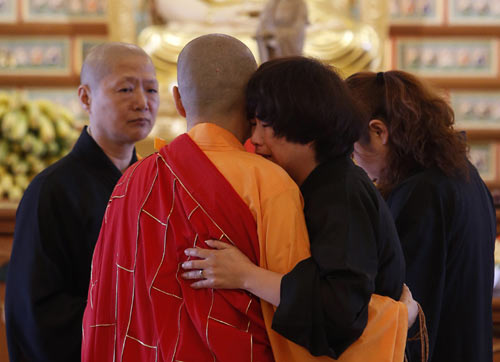 A Chinese relative of passengers onboard the missing Malaysia Airlines Flight MH370 is comforted by abbess Jue Cheng after prayers for their loved ones at Fo Guang Shan Buddhist temple.(Reuters)
"If this mystery is solvable, we will solve it,'' he