Of all the 20 aircraft and ships out scouring the vast Indian Ocean for debris from Malaysia Airlines MH370, the U.S. Navy's P-8 Poseidon seems perhaps the most likely to help unlock modern aviation's most confounding mystery.
Five workstations lining the fuselage display high-definition video from the top-secret sensors that make this one of the most sophisticated surveillance planes in the world.
But the latest mission in the three-week hunt - five luckless hours skimming as low as 300 feet (90 metres) above the wave tops - only served to underscore the enormity of the challenge facing the international search team.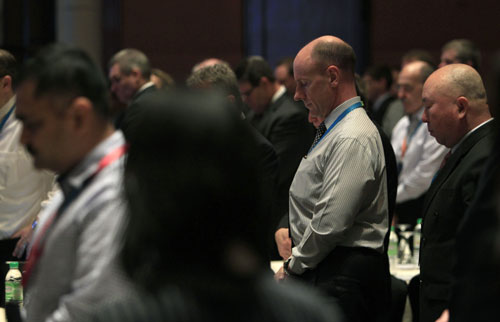 Delegates stand as they take a moment of silence for the missing Malaysia Airlines MH370 during the IATA Ops Conference in Kuala Lumpur, Malaysia. (AP )
"This is my first time in the Indian Ocean and it is unquestionably the most untouched piece of water I have ever seen," U.S. Navy Lieutenant Commander David Mims, the plane's pilot, told Reuters during a search flight this week.
"It's rare to come out and not see any land mass, not see any shipping traffic. There's nothing," he said. "It's weird."
The United States, China, Australia, New Zealand, South Korea and Japan are all scouring an area some 2,000 km (1,200 miles) west of the Australian city of Perth, where investigators believe the Malaysia Airlines Boeing 777 carrying 239 people came down.
US judge tosses law firm's motion seeking Malaysia plane MH370 evidence
So far, the search has turned up only fishing rubbish and other flotsam. It has been halted several times by bad weather in the search area.
Two Poseidons are engaged in the search. Costing around $175 million, the aircraft is armed with cameras, infra-red and radar sensors that are fine-tuned to detect enemy submarines hiding under the ocean surface.
Malaysia Airlines MH370: As kin waits for news, search for ill-fated plane continues
But despite its high-tech equipment, much of the searching is visual - crew members peering out a window.
"I'm a pretty optimistic guy by nature," said Petty Officer Michael Herman, perched in front of a porthole staring out into the foggy sea. "But yeah, this is tough."
The Poseidons operate alongside a pair of Chinese Il-76 military transport planes at Perth International Airport. They are kept under tight security, including a round-the-clock armed rapid response team.
The plane is so top-secret that a Reuters journalist given