Locating the black box of the crashed Malaysia Airlines flight MH370 is simply becoming "untenable" without reducing the search area in the remote Indian Ocean as the beacon on the key equipment could have only four days of battery power left, the US Navy officer who will lead the hunt warned today.
Without solid proof of the crash, one would not be able to begin to search for the black box, Commander Mark Matthews of the US Navy said.
"We don't have a defined search area yet. We have our challenges in front of us," he said.
"Right now, the search area is basically the size of the Indian Ocean, which is an untenable amount of time to search," said Matthews, a search-and-recovery expert who was involved in the two-year search to find the black box of Air France flight 447, which crashed in the Atlantic Ocean in 2009.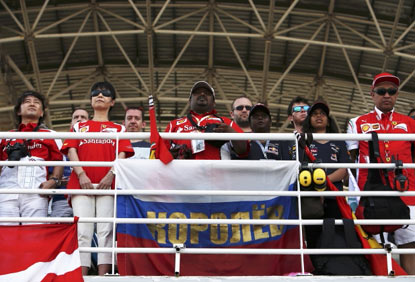 Fans stand during a one minute silence to show respect for the missing Malaysia Airlines flight MH370 before the start of the Malaysian F1 Grand Prix at Sepang International Circuit outside Kuala Lumpur, March 30, 2014.(Reuters)
The deeply pessimistic assessment from Matthews came as the Royal Australian Navy vessel Ocean Shield was today loaded with a "pinger" locator and an underwater drone critical to recovering the black box of Flight MH370.
However, the ship 'Ocean Shield' will not arrive in the 319,000 square kilometer search area in the Indian Ocean for three to four days, while the beacon on the black box could have only four days of battery power left.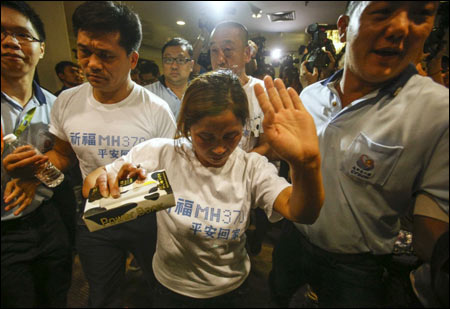 "It all depends on how effective we are at reducing the search area," Matthews was quoted as saying by Sydney Morning Herald.
The black box - with its cockpit and flight data recorders - is the key to understanding why the Beijing-bound Boeing 777-200 aircraft disappeared 22 days ago.
The batteries on the flight data recorder commonly referred to as the black box are designed to last about 30 days. The plane disappeared March 8 -- 22 days ago.
"What we're trying to find is an acoustic emission from one of the pingers on the flight data recorder, the cockpit voice recorder. Typically these last, the batteries last about 30 days, usually they last a little bit longer and that's what we're trying to find.
But what is critical is that the teams that are