Investigators examining a flight simulator seized from the home of the missing Malaysia Airlines MH370 plane's pilot have discovered that some data had been erased from it and experts are trying to retrieve it, Defence Minister said today.
The search for the plane entered the 12th day with no significant progress so far, Defence and Transport Minister Hishammuddin Hussein told reporters that some data from simulator was deleted.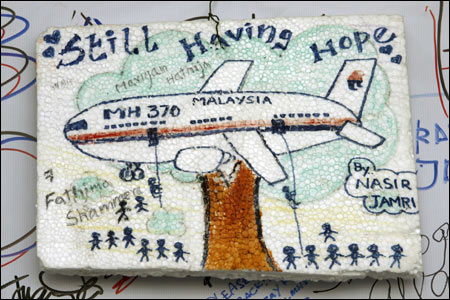 An artwork conveying well-wishes for the passengers and crew of the missing Malaysia Airlines Flight MH370 is seen at a viewing gallery in Kuala Lumpur International Airport March 19, 2014. (REUTERS)
Providing more details, Inspector General of Police Khalid Abu Bakar said, "All game logs on the Boeing-777 simulator built by the pilot of the Malaysian Airline MH370, Captain Zaharie Ahmad Shah, were deleted on February 3 this year, over a month before the plane went missing."
"Our forensic experts, including those from cybersecurity, Malaysia Airlines and foreign experts are working to restore the erased data logs in the flight simulator," he said.
Malaysian authorities had earlier dismantled the simulator and reassembled it to analyse its data, hoping to find something that could give insight into the disappearance of Malaysia Airlines Flight MH370 on March 8 with 239 people, including five Indians, aboard.
Check photos: Malaysia Airlines MH370: Special prayers
"It had been made with off-the-shelf computer hardware including an ASUS Direct CUII and Rampage IV Extreme motherboard and six flat-screen monitors," Khalid said He said there were three games found on Zaharie's simulator - Flight Simulator X, Flight Simulator 9 and X Flight Simulator.
Though experts are trying to recover the lost data, Hishammuddin said the 53-year-old pilot and all passengers on Malaysia Airlines MH370 remained innocent until proven guilty of any wrongdoing.
The deletions are not necessarily evidence of ill intent: Removing files from a computer is usually an innocent act repeated millions of times a day around the world, CNN said.
However it said it is relatively unusual to delete such data from a simulator as the files are extremely small and are often kept by desktop pilots to gauge their progress.
According to some reports, investigators found the runways with over 1,000 metres length of five airports, including three in India and Sri Lanka, one at the Male in Maldives and an airport owned by the US (Diego Garcia), loaded into the home-made flight simulator of Captain Zaharie.
Captain Zaharie and first officer