Aircraft and ships ploughed through dire weather on Thursday in search of objects floating, believed to be Malaysia Airlines Flight MH370, in remote seas off Australia that Malaysia's government called a "credible lead" in the trans-continental hunt for a jetliner missing for nearly two weeks.
The large objects, which Australian officials said were spotted by satellite four days ago in one of the remotest parts of the globe, are the most promising find in days as searchers scour a vast area for the plane lost with 239 people on board.
Also read: Malaysia Airlines MH370 jetliner - Dimensions
A Norwegian merchant ship arrived in the area on Thursday, but officials cautioned it could take days to confirm if the objects were parts of the Malaysia Airlines Boeing 777. Malaysia's government said the search would continue elsewhere despite the sighting in the southern Indian Ocean.
The area where the objects were spotted is around 2,500 km (1,500 miles) southwest of Perth, roughly corresponding to the far end of a southern track that investigators calculated the aircraft could have taken after it was diverted.
"Yesterday I said that we wanted to reduce the area of the search. We now have a credible lead," Malaysian Transport Minister Hishammuddin Hussein told reporters in Kuala Lumpur.
"There remains much work to be done to deploy the assets. This work will continue overnight."
A search for the plane that began in the tropical waters off Malaysia's east coast has now switched to the vast, icy southern oceans between Australia, southern Africa and Antarctica.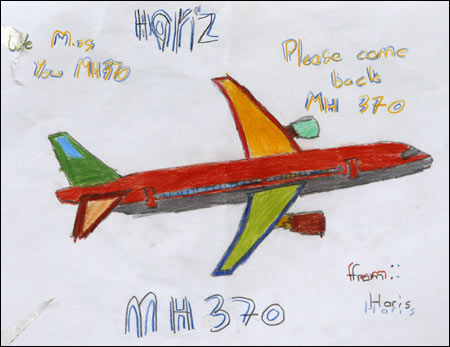 An artwork conveying well-wishes for the passengers and crew of the missing Malaysia Airlines Flight MH370 is seen at a viewing gallery in Kuala Lumpur International Airport March 19, 2014.(Reuters)
There have been many false leads and no confirmed wreckage found from Flight MH370 since it vanished from air traffic control screens off Malaysia's east coast early on March 8, less than an hour after taking off from Kuala Lumpur for Beijing.
Hishammuddin said the information on the objects received from Australia had been "corroborated to a certain extent" by other satellites, making it more credible than previous leads.
The larger of the objects measured up to 24 metres (79 ft), long and appeared to be floating in water several thousand metres deep, Australian officials said. The second object was about five metres (16 feet) long. Arrows on the images pointed to