two indistinct objects apparently bobbing in the water.
"It's credible enough to divert the research to this area on the basis it provides a promising lead to what might be wreckage from the debris field," Royal Australian Air Force Air Commodore John McGarry told a news conference in Canberra.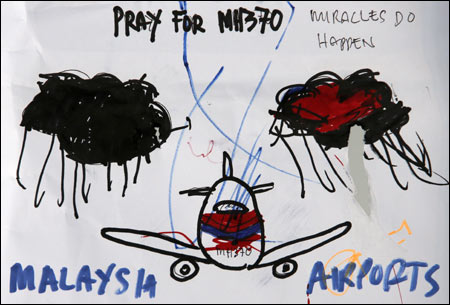 An artwork conveying well-wishes for the passengers and crew of the missing Malaysia Airlines Flight MH370 is seen at a viewing gallery in Kuala Lumpur International Airport March 19, 2014. (Reuters)
The satellite images, provided by U.S. company DigitalGlobe , were taken on March 16, meaning that the possible debris could by now have drifted far from the original site.
Australian officials said an aircraft had dropped a series of marker buoys in the area, which will provide information about currents to assist in calculating the latest location.
The captain of the first Australian air force AP-3C Orion plane to return from the search area described the weather conditions as "extremely bad" with rough seas and high winds.
"The weather conditions were such that we were unable to see for very much of the flight today but the other aircraft that are searching, they may have better conditions," Flight Lieutenant Chris Birrer told reporters.
At least one aircraft, a Royal New Zealand Air Force Orion, was still in the search area, while other aircraft including a U.S. Navy P-8 Poseidon were returning to Perth, according to the Australian Maritime Safety Authority (AMSA).
A Norwegian car carrier diverted from its journey from Madagascar to Melbourne and had arrived in the search area, the ship's owner said. A Royal Australian Navy ship equipped to recover any objects was also en route.
China's icebreaker for Antarctic research, Xuelong, or Snow Dragon, will set off from Perth to search the area, Chinese state news agency Xinhua cited maritime authorities as saying. About two-thirds of the 227 passengers on Flight MH370 were Chinese nationals.
BACKGROUND CHECKS
Investigators believe that someone with detailed knowledge of both the Boeing 777-200ER and commercial aviation navigation switched off the plane's communications systems before diverting it thousands of miles off its scheduled course.
Exhaustive background checks of the passengers and crew aboard have yielded barely anything that might explain why.
The discovery of the floating objects was revealed by Australian Prime Minister Tony Abbott.
"The task of locating these objects will be extremely difficult and it may turn out they are not related to the search