There were 239 passengers and crew on board Malaysia Airlines Flight MH370, which disappeared March 8 after leaving Kuala Lumpur for Beijing. These are some of their stories.
A SUCCESSFUL SON
Puspanathan Subramaniam's father was a poorly paid security guard, a man born into poverty on a Malaysian rubber plantation who had saved for years to put his son through school. The young boy succeeded, and Puspanathan, 34, eventually got a job in the information technology department of an engineering firm.
As successful children are often expected to do in this part of the world, he had recently visited his parents to bring food and pay the household bills: water, electricity, telephone and satellite TV. His parents were proud of him, and also knew they could depend on him to support them in their old age.
''We planted a tree and thought we would enjoy the fruits of our labor,'' his father, Subramaniam Gurusamy, 60, told reporters not long after the flight disappeared. ''I don't know what to do now,''
Also see: Malaysia Airlines MH370: 7 'treasured' secrets plane's black boxes hold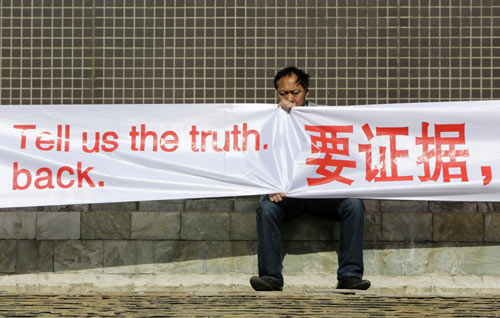 A family member of a passenger onboard the Malaysia Airlines Flight MH370 holds a banner during a protest. The protest was also held to thank overseas Chinese who protested in front of the Malaysian Embassy in London. Fresh objects spotted by planes searching for a missing Malaysian passenger jet in a new area of the southern Indian Ocean have again raised hopes of unravelling the three-week old mystery.(Reuters)
Puspanathan, who was flying to Beijing for work on Malaysia Airlines MH370 plane, leaves behind a wife and two sons, aged 1 and 3. While he traveled regularly for work, his father said the children had clung to him when he left for the flight to Beijing.
''The boys were crying, holding on to their father and asking him not to go. It was the first time they have acted like that when he travels,'' the father said. ''I don't know what to think.''
ALWAYS NEW PASSIONS
In 2006, Chinese artist Liu Rusheng reflected on his life, concluding with gratitude that ''fate has been very kind to me.''
As a baby born outside Nanjing in 1938, he was abandoned several times as his family fled invading Japanese troops. He later survived a truck collision, political persecution, three heart attacks and the vicious swirling currents of