One morning, many stories.
The three women woke before sunrise that day, leaving their hotel while it was still dark and boarding a small plane in Katmandu, Nepal, for a look at Mount Everest. They were Chinese retirees, avid photographers ending a two-week tour of the Himalayan nation. Late that night, after a stopover in Kuala Lumpur, they would head home to Beijing.
The Indonesian couple woke up at home, a tidy two-story concrete-walled house down a small alley in the city of Medan. A taxi arrived a few hours later to take them to the airport, starting them on a journey to a long-anticipated vacation without their children, a trip to China to see the Great Wall and Beijing's Forbidden City.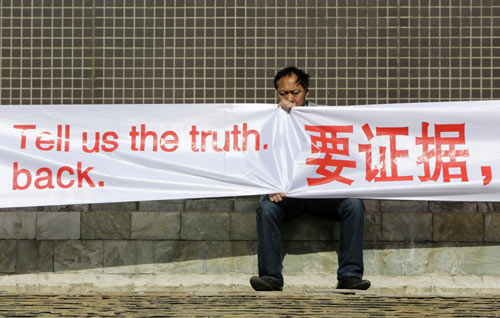 A family member of a passenger onboard the Malaysia Airlines Flight MH370 holds a banner during a protest. The protest was also held to thank overseas Chinese who protested in front of the Malaysian Embassy in London. Fresh objects spotted by planes searching for a missing Malaysian passenger jet in a new area of the southern Indian Ocean have again raised hopes of unravelling the three-week old mystery.(Reuters)
In Kuala Lumpur's Chinatown, the artists and calligraphers headed down to breakfast about 8 a.m. Some had been celebrating the night before, downing shots of the powerful Chinese liquor called Xifengjiu at the end of almost a week exhibiting their work. But they gathered early in the hotel restaurant, ready for a day of sightseeing and shopping before the late-night flight back to Beijing.
Live: Search teams spot colors of Malaysia Airlines MH370 plane in Indian ocean
And in Perth, in western Australia, the 39-year-old mechanical engineer woke up early in his red-roofed bungalow, leaving his wife and their two young boys for a 28-day mining job in Mongolia. Just before he headed to the airport, on his way to connecting flights in Kuala Lumpur and Beijing, Paul Weeks gave his wife his wedding ring and watch for safekeeping. If anything happened to him, he said, he wanted the boys to have them someday. ''Don't be stupid!'' she told him.
It was Friday morning, March 7.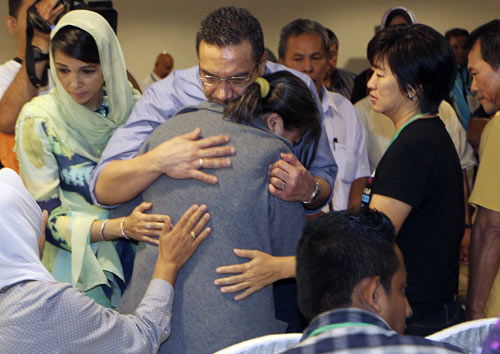 Malaysia's acting Transport Minister Hishammuddin Hussein comforts a relative of passengers on board the missing Malaysia Airlines flight MH370 . Newly analyzed satellite data shifted the search zone on