At the time - the evening of March 24 - it seemed like the breakthrough the world was waiting for. In a hastily called speech, Malaysian Prime Minister Najib Razak announced that an unprecedented analysis of satellite signals concluded that Malaysia Airlines Flight MH370 ''ended'' deep in the Indian Ocean, far from any possible refuge for the 239 souls aboard.
Finally, there was a solid explanation for what happened to the aircraft. A much more focused search could begin, and so perhaps could the grieving process for families from 14 countries. Najib's announcement quieted wild speculation about desert islands and terrorists and covert operations.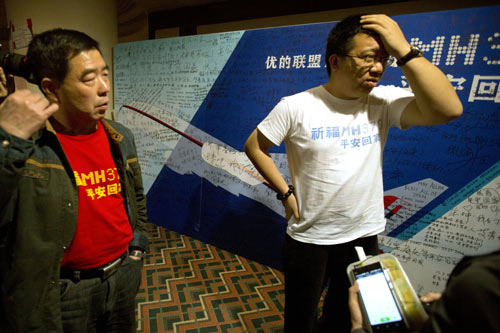 Steve Wang, a representative from the committee for relatives of Chinese passengers onboard the Malaysia Airlines MH370 talks to journalists after a closed door meeting with Malaysian officials via teleconference in Beijing, China. A Malaysian police investigation into the pilots of the missing Malaysian jet might turn up nothing, the force's chief said. while the head of the international search effort also acknowledged that an air hunt to spot wreckage on the surface of the southern Indian Ocean was not certain of success. The Chinese words on the t-shirts read 'Pray for MH370 safe return' (AP)
But four weeks after the Malaysia Airlines plane disappeared, the apparent pivot in the search is proving to be not much of a pivot at all.
Not a single piece of wreckage from the lost plane has been found, not even after a new analysis led investigators to change the focus of their search yet again. The latest search area is based on extremely limited satellite data combined with radar data taken some five hours before the Malaysia Airlines plane is believed to have gone down. It is, as one search official said, ''a very inexact science.''
Australian Prime Minister Tony Abbott, whose country is coordinating the current search effort, spoke of ''very credible leads'' and ''increasing hope'' a day before Najib's announcement. But on Thursday he said the search has become ''the most difficult in human history.''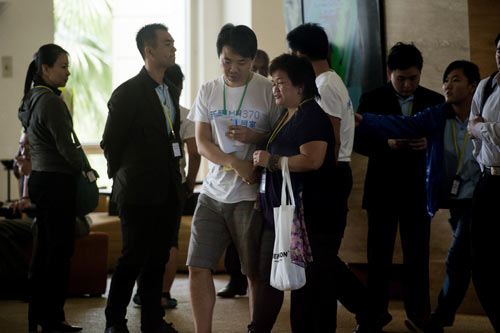 Relatives of the Chinese passengers onboard the missing Malaysia Airlines, MH370 embraces each other as they walk out after a close door meeting with the Malaysian officials at a hotel in Bangi, outskirts of Kuala Lumpur, Malaysia. Investigators are conducting a forensic examination of the final