A Malaysia Airlines flight carrying 227 passengers and 12 crew went missing in area near the South China Sea on Saturday as it flew from Kuala Lumpur to Beijing and was presumed to have crashed.
There were no reports of bad weather and no sign why the Boeing 777-200ER, powered by Rolls-Royce Trent engines, would have vanished from radar screens about an hour after it took off.
By nightfall in the region, there were no signs of the plane or any wreckage, some 17 hours after it went missing.
A large number of planes and ships from several countries were scouring the area where the plane last made contact, about halfway between Malaysia and the southern tip of Vietnam.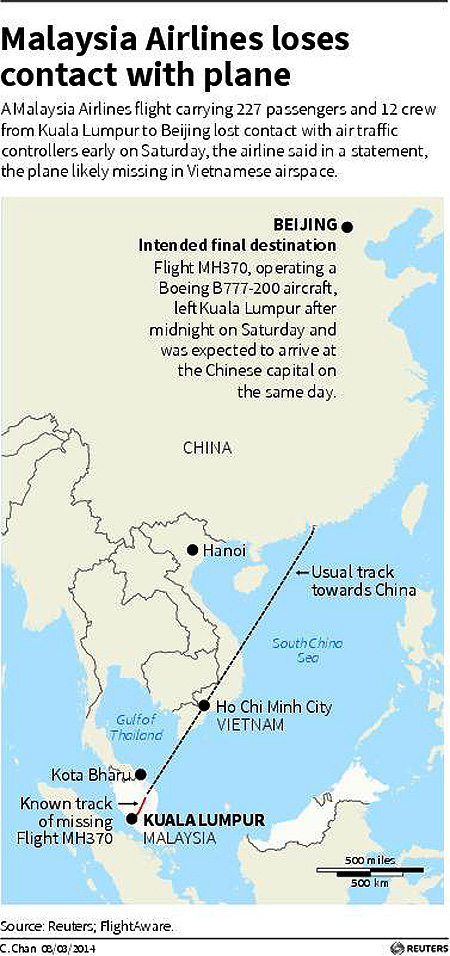 "The search and rescue operations will continue as long as necessary," Malaysian Prime Minister Najib Razak told reporters in Kuala Lumpur. He said 15 air force aircraft, six navy ships and three coast guard vessels had been pressed into service by Malaysia.
China and the Philippines have sent ships to a region near the South China Sea to help. The United States, the Philippines and Singapore also dispatched military planes to help in the search.
China has also put other ships and aircraft on standby, said Transport Minister Yang Chuantang.
Vietnamese state media, quoting a senior naval official, had reported that the plane had crashed off south Vietnam. Malaysia's transport minister later denied any crash scene had been identified.
"We are doing everything in our power to locate the plane. We are doing everything we can to ensure every possible angle has been addressed," Transport Minister Hishamuddin Hussein told reporters near the Kuala Lumpur International Airport.
"We are looking for accurate information from the Malaysian military. They are waiting for information from the Vietnamese side," he said.
Vietnamese Admiral Ngo Van Phat later qualified his earlier remarks about a crash site having been identified and told Reuters he was referring to a presumed location beneath the plane's flight path, using information supplied by Malaysia.
A crash, if confirmed, would likely mark the U.S.-built airliner's deadliest incident since entering service 19 years ago.
The plane, aged over 11 years, disappeared without giving a distress signal - a chilling echo of an Air France flight that crashed into the South Atlantic on June 1, 2009, killing all 228 people on board. It vanished for hours and wreckage was found only two days later.
Search