The last words from the cockpit of a missing Malaysian jet were a standard "Good night Malaysian three seven zero", Malaysian authorities said, changing their account of the critical last communication from a more casual "All right, good night".
Malaysia on Tuesday released the full transcript of communications between the Boeing 777 and local air traffic control before it dropped from civilian radar in the early hours of March 8 as it flew from Kuala Lumpur to Beijing.
The correction comes as Malaysian authorities face heavy criticism, particularly from China, for mismanaging the search, now in its fourth fruitless week, and holding back information. Most of the 239 people on board the flight were Chinese.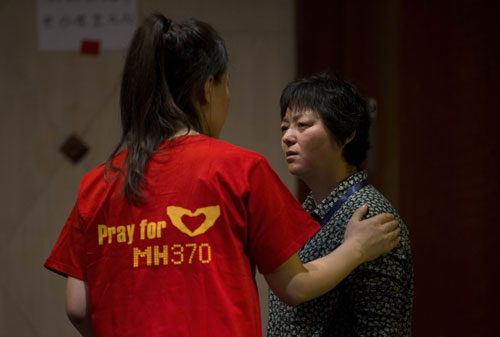 Woman, one of the relatives of Chinese passengers aboard the missing Malaysia Airlines flight MH370, comforts another woman before a daily briefing held by Malaysian officials at a hotel in Beijing, China. Australia deployed Tuesday an airborne traffic controller over the Indian Ocean to prevent a mid-air collision among the many aircraft searching for the Malaysia Airlines jetliner that went missing over three weeks ago. (AP)
"There is no indication of anything abnormal in the transcript," Malaysian Acting Transport Minister Hishammuddin Hussein said in the statement, without giving explanation for the changes in the reported last communication.
"The transcript was initially held as part of the police investigation," he added.
Minutes after the final radio transmission was received the plane's communications were cut off and it turned back across Peninsular Malaysia and headed towards the Indian Ocean, according to military radar and limited satellite data.
Read: Malaysia Airlines Flight MH370: Last words from missing plane changed
The search is now focused on a vast, inhospitable swathe of the southern Indian Ocean west of the Australian city of Perth, but an international team of planes and ships have so far failed to spot any sign of the jetliner.
"In this case, the last known position was a long, long way from where the aircraft appears to have gone," retired Air Chief Marshal Angus Houston, the head of the Australian agency coordinating the operation, told reporters in Perth.
"It's very complex, it's very demanding and we don't have hard information like we might normally have," he said.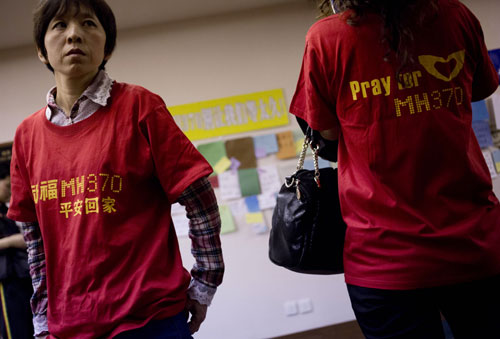 Women, relatives of Chinese passengers aboard the missing Malaysia Airlines flight MH370, stands near papers with writings for wishes for