A Malaysian airliner was brought down over eastern Ukraine on Thursday, killing all 298 people aboard and sharply raising the stakes in a conflict between Kiev and pro-Moscow rebels in which Russia and the West back opposing sides.
Ukraine accused "terrorists" - militants fighting to unite eastern Ukraine with Russia - of shooting down the Malaysia Airlines Boeing 777 with a heavy, Soviet-era SA-11 ground-to-air missile as it flew from Amsterdam to Kuala Lumpur.
Video Courtesy: The Telegraph
Leaders of the rebel Donetsk People's Republic denied any involvement, although around the same time their military commander said his forces had downed a much smaller Ukrainian transport plane. It would be their third such kill this week.
The scale of the disaster affecting scores of foreigners could prove a turning point for international pressure to resolve a crisis that has claimed hundreds of lives in Ukraine since pro-Western protests toppled the Moscow-backed president in Kiev in February and Russia annexed Crimea a month later.
Malaysia Airlines MH370 Crash: Full Coverage
Reuters journalists saw burning and charred wreckage bearing the red and blue Malaysia insignia and dozens of bodies strewn in fields near the village of Hrabove, 40 km (25 miles) from the Russian border near the rebel-held regional capital of Donetsk.
Malaysia Airlines has lost contact of MH17 from Amsterdam. The last known position was over Ukrainian airspace. More details to follow.

— Malaysia Airlines (@MAS) July 17, 2014
Despite the shooting down of several Ukrainian military aircraft in the area in recent months, including two this week, and renewed accusations from Kiev that Russian forces were taking a direct part, international air lanes had remained open.
U.S. President Barack Obama said he was trying to establish whether Americans were aboard. A Ukrainian official said there were 23. France said at least four of its citizens were aboard.
As word came in of what Ukraine's Western-backed president called a "terrorist attack", Obama was on the phone with Russian President Vladimir Putin, discussing a new round of economic sanctions that Washington and its EU partners imposed on Moscow on Wednesday to try to force Putin to do more to curb the revolt against the Western-backed government in Kiev.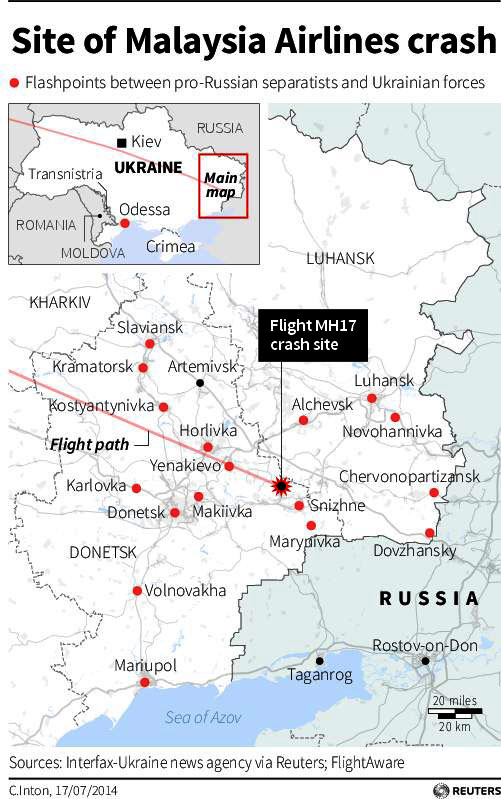 They noted the early reports during their telephone call, the White House said, adding that Obama warned of further sanctions if Moscow did not change course