The Indian stock market rose for the third straight day on Friday to post its biggest weekly gain in more than four months. The benchmark BSE Sensex ended 1.5% higher on Friday and was 3.5% up for the week as the rupee strengthened further at 65.24/$ after RBI governor Raghuram Rajan announced that banks would be incentivised to raise dollar funds. The rupee has gained 2.7% since Rajan took over as the RBI governor on Wednesday.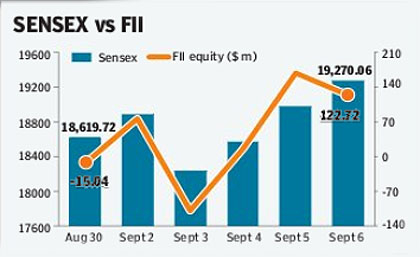 Foreign institutional investors (FIIs) bought $123 million worth of equities on Friday while domestic institutional investors (DIIs) sold $36 million. Indian markets have come under pressure in the last three months as FIIs have sold $3.5 billion worth of Indian stocks, the highest overseas outflow among Asian peers during this period. Sensex has fallen 1.74% over the last three months.
The Sensex resumed higher and moved in a range of 18,929.38 to 19,293.96 before ending at a three-week high of 19,270.06, a rise of 290.30 points or 1.53%. The CNX Nifty on the NSE rose 87.45 points, or 1.56%, to a three-week high of 5,680.40.
It was a good week for the markets as the Sensex gained in all trading sessions barring Tuesday. Among global indices, the 30-share benchmark gained the most at 5.63% in dollar terms. Among its peers, Hang Seng (4.08%) and Nikkei (2.51%) were the major gainers.
On Tuesday, the Sensex had ended with losses of 3.45% as the news of continued violence in Syria pushed the price of crude oil past the $107/barrel mark. However, markets bounced back on Wednesday after Rajan took charge of the central bank and immediately announced fresh measures, including windows offering cheaper swap rates to banks to raise Dollar funds. The Sensex rose 1.83% on Wednesday.
Taking cue from Rajan's announcements, bank stocks rose the most in more than four years on Thursday, with the BSE Bankex up 9.3%. Yes Bank (21.5%), ICICI Bank (9.2%) and SBI (9.7%) also posted their highest single-day gain in more than four years.
Bank and energy stocks were the top-performers during the week. Bankex was up nearly 10%, while BSE Oil and Gas was up 5.19%. "Banking and energy segments outperformed the broad markets. The stocks gained on the back of recent RBI measures and expectations around raising fuel prices to minimise under-recoveries," said Rajesh Cheruvu, chief investment officer, RBS Private