India VIX — the gauge of underlying volatility in the market — rose to a four-month high on Friday as the benchmark Sensex fell for a second consecutive day after touching a record high on Wednesday.
The index on market volatility closed at 22.6875, its highest level since December 4, 2013. The average swing in the Nifty (daily range as a % of previous day's close) during March jumped to 1%, its highest since November 2013.
Although India VIX maintains a strong negative correlation with the equity market, market volatility has risen in the last two weeks as traders turned cautious after the benchmark indices continued to touch new highs.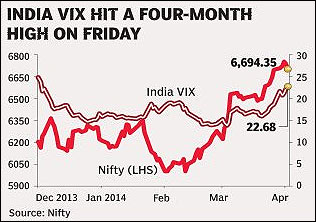 Data show that VIX maintains a negative correlation of 81%; the VIX tends to go up in case of a falling market. The 30-share Sensex has lost 192 points, or 0.85%, in the last two trading sessions after touching all-time highs for six consecutive sessions, the latest record high being 22,551.49.

India VIX is the volatility index based on option prices of the Nifty index and represents the expected market volatility over the next 30 calender days.

It is derived by using a computation methodology provided by the Chicago Board Options Exchange (CBOE). NSE introduced the index in late 2007 through its licensing agreement with S& P.

"The VIX calculation considers the variance between the near-month and the mid-month Nifty options. In the last one week, the weightage of April options has reduced, while that of May expiries has gone up. As a result, the VIX value has jumped, given that the Street perceives election results scheduled in mid-May as the key event," said a trader.

In the last two weeks, India VIX has jumped from 15.88 to 22.72, marking a gain of nearly 685 basis points.

Earlier in February, Bank of America Merrill Lynch said that volatility in Indian markets is likely to rise sharply as general elections near because capital markets are "usually jittery prior to the declaration of election results as it is uncertain about the outcome".

Citing the example of 2009, BofA ML said India VIX had jumped sharply prior to the declaration of results, showing the underlying fear of investors about the uncertainty of results. "We would expect VIX to rise as we near May this year too," it added.

India VIX had increased from 36 on April