After rising for four consecutive weeks, the BSE Sensex fell 2.6 per cent in the last five trading sessions, as a surprise repo rate hikeby the Reserve Bank of India (RBI) on September 20 dampened investor confidence and battered banking shares.
Rate-sensitive sectors were hurt — the banking index and the realty index lost over 7 per cent in the week. Yes Bank fell 14.5 per cent, SBI lost 6 per cent while shares of DLF Ltd slumped 13 per cent.
While analysts expected the new RBI chief Raghuram Rajan to hold rates last week, expectations for monetary policy have suddenly shifted towards further tightening after the rate hike, a recent Reuters poll showed.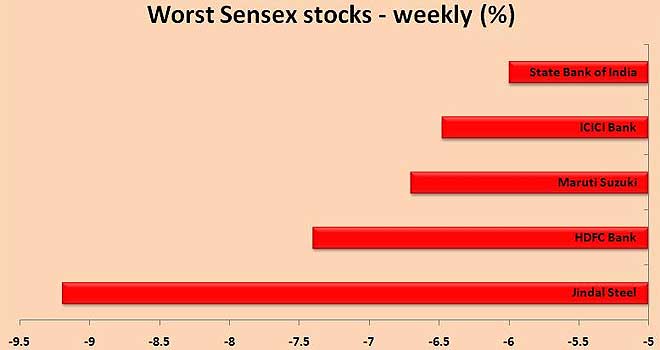 Here are the top losers and gainers of the week.
LOSERS
JINDAL STEEL AND POWER: The stock fell 9.2 per cent this week, after rising for three consecutive weeks. Shares in Jindal Steel have struggled in 2013 and are down more than 47 per cent.
JSPL's stock has underperformed over the last one year on account of issues related to allocation of coal blocks. Selling has been further intensified due to subdued domestic steel demand and a decline in spot power realizations, IIFL said in a report on Sept. 27.
"We estimate consolidated earnings to remain flat in FY14 and then jump 20 per cent y-o-y in FY15 … the growth in earnings would take centre stage and would lead to re‐rating of the stock," the brokerage said, while maintaining its buy recommendation on the stock with a revised price target of 276 rupees.
"We have lowered our earnings estimate over the next two years to account for the weak power prices prevailing in the country and delay in commissioning of the coal block and steel capacities."
HDFC BANK: Shares in India's third-largest private lender ended the week with losses of 7.5 per cent, in line with the fall in the BSE banking index.
Banking shares struggled during the week after the RBI's repo rate hike on Sept. 20. The central bank said this week that it is still worried about high inflation.
Experts are optimistic about HDFC Bank — of the 53 analysts covering the stock, 36 have a buy or equivalent rating on it, Thomson Reuters data showed.
MARUTI SUZUKI: The country's biggest car maker ended the week with losses of 6.7 per cent, but the stock is still up 9 per cent this month.
Antique Stock Broking said in a note on Sept. 26 that currency movement remains the biggest stock catalyst for Maruti Suzuki India and the stock price reacts to forex movement in real time.
India's economy is growing at its slowest pace in a decade, interest rates are high and sales growth in the auto sector is expected to remain negative in FY2014.
Even as Maruti needs to wait for a macroeconomic recovery, Antique is still optimistic about long-term prospects. "As a two-year play, we still can't think of a better stock in the sector," the brokerage, which has a target price of 1,720 rupees on the stock, said.
ICICI BANK: India's largest private sector bank lost 6.5 per cent in the week ending Sept. 27 as the banking sector performance remained weak. In September, however, the stock has gained almost 15 per cent after losing 11 per cent last month.
Analysts are bullish on ICICI Bank. Data showed that of 49 analysts covering the stock, 46 have a buy or equivalent rating on the bank.
STATE BANK OF INDIA: Just like other banking stocks, the country's biggest lender also had a difficult week as its stock fell 6 per cent. SBI shares have now lost 31 per cent in 2013.
Axis Capital said in a research note on Sep. 24 that State Bank of India (SBI) will witness an overhaul in top management with the chairman retiring in the current month and three out of four managing directors retiring over the next seven months (by April 2014), which could lead to uncertainty over existing strategies.
Axis has downgraded the stock to 'sell'. "We believe growth above industry average will bring in challenges both in terms of margin and asset quality. In absence of capex demand, SBI will have to rely more on retail/working capital loans which are competitively priced along with higher operating costs," it added.
GAINERS
Bharat Heavy Electricals Ltd (BHEL) was the stock to watch as it closed 6.4 per cent higher. Sun Pharmaceuticals Industries touched its all-time high during the week and ended with gains of 4.1 per cent. Hero MotoCorp (up 3.2 per cent), Sesa Sterlite (up 2.6 per cent) and Coal India (1.95 per cent) were among other top gainers.