at 22,209.37; Suzlon Energy (4.38%) major gainer
Also read: Live: Search flights called off due to severe weather, hunt for Malaysia Airlines jet debris postponed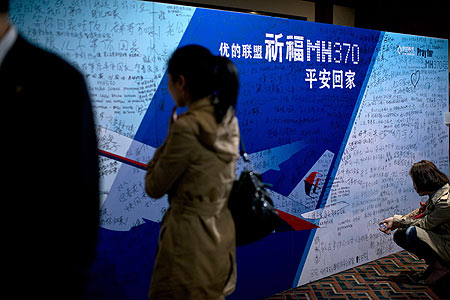 Hopes and prayers written by relatives of those onboard Malaysia Airlines MH370 jet are seen on a board at a hotel in Beijing, China. Some of the wishes read, "Dear husband, you must stay strong, I am waiting for you. My dear, please be back soon." (AP)
10.40 A.M.: BSE Sensex up over 90 points 22,189.84 and Nifty at 6633.75; HPCL and Motherson Sumi lead gainers
10.10 A.M.: BSE Sensex up 83.23 points at 22,178.53, NSE Nifty up 30.70 points at 6,632.10; Biocon scrip among top losers in BSE Sensex
10.10 am: Gold price down Rs 39.00 at 28,532.00
10.05: Indian rupee at 60.21 to a US dollar
09.50 A.M.: Indian rupee at 60.21 to a US dollar
09.40 A.M: BSE Sensex at 22,133, NSE Nifty at 6,612
On Thursday, the markets started on the positive note with among Motherson Sumi and Indian Oil Corporation top gainers.
The benchmark BSE Sensex rose almost 63 points on sustained buying by funds and retail investors ahead of the monthly expiry in the derivatives segment.
The 30-share barometer, which had gained 40.09 points in the previous session, moved up by 62.65 points, or 0.28 per cent, to 22,157.95, with stocks of healthcare, realty, power, auto, metal and banking sectors leading the rise.
Also, the National Stock Exchange index Nifty gained 6.60 points, or 0.10 per cent, to 6,608.00.
On Wednesday the rhythm and the momentum was retained by the stock markets which clambered to new highs. The feelgood factor has experts indicating more good news is to follow, albeit volatility may spike.
09.15 A.M: BSE Sensex opens higher at 22,118.18
09:10 A.M.: BSE Sensex at 22,116 in pre-open
09.00 A.M: Indian Rupee opens lower at 60.24 to US dollar against Wednesday's close of 60.14.
09:00 A.M.: BSE Sensex up 22 points at pre-open
08:30 A.M.: Deutsche Bank says the rally in Indian mid cap stocks, which have risen 30 percent since August, compared with a 19 percent rise in BSE benchmark index, can extend to catch up on significant underperformance it saw in last three years versus the large caps
08:00 A.M.: Nifty futures traded on the Singapore Exchange are up 0.11 percent, while the MSCI-Asia Pacific excluding Japan index falls 0.15 percent..
08:15 A.M.: Asian markets were