For Q4FY14, Maruti Suzuki India reported results that were a tad below our expectations at the operational level with its Ebitda margin at 11.9% vs. our estimate of 12.8%. However, the outlook on both volumes and pricing seems to be improving, which is a positive sign.
In addition, Maruti continues to press forward its localisation plans (400bps reduction in import content in FY14), which should insulate profitability in a weak demand environment. We continue to believe that Maruti is favourably poised for a volume recovery with a strong product pipeline along with an improving outlook on pricing. We increase our EPS (earnings per share) by 3% for FY15 and 1% for FY16 given the better earnings visibility, which pushes up our 12-month price target by 4% to Rs 2,203 (vs. Rs 2,125 earlier) still based on 9x FY15 EV/Ebitda (enterprise value/ earnings before interest, taxes, depreciation and amortisation).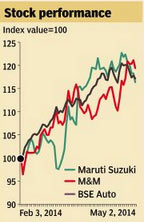 FY14 and Q4FY14 update: Despite Maruti's actual FY14 volumes being 2.3% better than our estimate, Q4FY14 profitability was slightly weaker than we expected with an Ebitda margin of 11.9%. The management attributed this to a rise in input prices and the weaker-than expected pricing environment where demand remained weak. To offset margin pressures, Maruti continues to push its localisation plans and has managed to reduce import content to 16% in FY14 (vs. 20% in FY13), which translates into 150 bps (basis points) of profitability.
New products and discount: For Maruti, demand for newly launched Celerio (5% of Q4FY14 volume) remains strong with a waiting list of more than six months. As a result, the overall discount/unit has slipped sequentially to R17,500 (-10% q-o-q). Discounts remain elevated compared with the FY08-12 levels of R8,000-10,000/unit. In our view, as demand improves, the current discount level will fall further.
Reiterate OW: We continue to view Maruti as favourably poised for a recovery should macro factors improve. Maruti's product pipeline and cost structure remain favourable with significant headroom for reduction in discounts. We currently factor in 10% volume growth for FY15 and FY16, which is marginally ahead of our industry volume expectations. The key risks, in our view, would be a weaker volume recovery in FY15 and FY16 than we expect, resulting in no improvement in profitability and a reversal of currency trends.
Management call takeaways
*Input costs are seeing inflation primarily on account of steel prices increasing