Three months after production at Maruti Suzuki's Manesar factory limped back to normal, the carmaker has announced plans to hire around 2,000 more workers, primarily for the upcoming third line at the same facility. The new line, known as Plant C, is scheduled to start operations around September this year and will increase the Manesar facility's annual output to 750,000 units, from just over 500,000 today.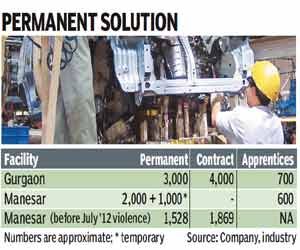 RC Bhargava, Maruti chairman, told FE that as per the company's new policy, 75-80% of the new workers will be permanent while the rest will be hired on a temporary basis. "Typically, one line requires 2,000 workers. The only difference between the two categories is that when work reduces, temporary workers go home, returning when it picks up again," he said.
Operations at the Manesar car plant have been far from smooth with two bouts of labour trouble in 2011 and 2012 leading to plant closures and a total loss of about R6,000 crore in revenues. The first dispute, which stretched from June to October in 2011, was over registration of a new union, while the July 2012 violence had led to the death of a company HR official.
Bhargava added that further hiring for the upcoming mega-facility at Gujarat could also start from around 2014, a year before the scheduled start of operations of the first line in 2015-16. The Gujarat workers will be first trained at Maruti's existing twin facilities in Gurgaon and Manesar. In 2015-16, Gujarat will initially start with a single line making 250,000 cars annually, later going up to six lines producing 1.5 million cars a year. Combined with the two Haryana plants, Maruti's total annual output is likely to cross 3 million by around 2020.
By March this year, the car market leader also aims to completely finish with contract positions in operations directly related to manufacturing, but may keep them for other jobs like material handling and maintenance. "At Manesar we don't need them (contract workers) at all and at Gurgaon the process is on of converting the contract to temporary workers. By the end of March we should be completing this," Bhargava said.
However, other sources in the company indicated that while the conversion may be possible for the fewer employees at the relatively newer Manesar plant (started in 2007), the process would take much longer for its first Gurgaon facility and in all probability miss the