In a bid to convince foreign investors of the benefits of Maruti Suzuki India's (MSIL) new contract manufacturing plan for its upcoming Gujarat facility, a select team of senior company officials will visit the US, UK, Singapore and Hong Kong from mid-June to August. The team includes chairman RC Bhargava, managing director Kenichi Ayukawa and chief financial officer Ajay Seth.
MSIL had, after a protracted tiff with minority shareholders earlier this year, decided in March to seek their approval for the Gujarat unit, to be set up as a wholly owned subsidiary of parent Suzuki Motor. Once the company completes the investor meets, the special resolution will be put to vote, Bhargava told FE. He said the board of Suzuki Motor Gujarat — the subsidiary company — is likely to approve the new contract manufacturing agreement in the next couple of days. "Once the new manufacturing agreement is in place the investor meets will start," he said.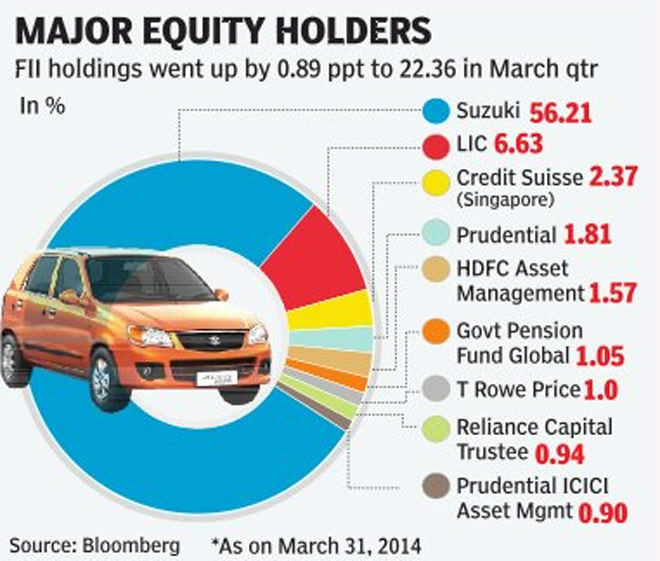 "We want to explain to investors what the new agreement is about and how it benefits shareholders. We have not had a chance to do that yet through personal meetings, the debate has largely taken place in the media. We feel both domestic and foreign investors have to be covered, not only those who had opposed the new plan for Gujarat. We have the consent of SMC on the contract manufacturing agreement and the terms have been agreed in great detail," another company official said.
Foreign institutional investors in MSIL include Credit Suisse (Singapore), the UK's Prudential, T Rowe Price of the US and Norway's Government Pension Fund Global.
The controversy regarding the Gujarat plant started when on January 28 Maruti said its board had decided the plant would be owned and built by its parent firm Suzuki Motor at an investment of around Rs 3,000 crore.
SMC would invest in the plant through its wholly-owned subsidiary Suzuki Motor Gujarat (SMGPL). The plant, which would be the first fully-owned factory of the Japanese giant, will have an initial capacity of 250,000 cars a year, all of which will be supplied to Maruti Suzuki.
The Street was opposed to the structure despite subsequent changes by the management on February 26. While earlier the Gujarat unit was to remain an SMC subsidiary, the company later said that if the contract manufacturing agreement