From those who raised the funds to those who formed the manifestos, from those who marked out AAP online to those who established it door-to-door, from jan sabhas to campuses, from workshops to polling booths.
Aditi Vatsa, Naveed Iqbal and Dipankar Ghose trace those who made AAP possible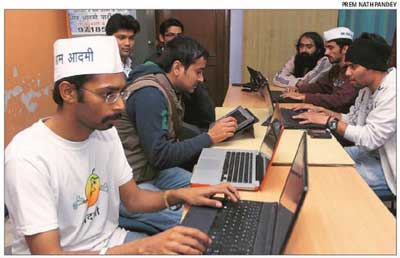 They were the nowhere people who were everywhere — working away from the cameras that now won't leave them alone, and under the noses of the political parties that ignored them; reaching those parts of Delhi that had fallen off the map and others that made up its faultlines; and standing out from the crowd even while emphasising their merging-in. Behind the big success of the Aam Aadmi Party on election day on December 8 in Delhi, lay many such small stories.
Almost all began at 41, Hanuman Road, particularly a small room on the first floor with an ambitious name tagged on the door and two brooms hung crossing each other like a coat of arms on one of its walls. 'War Room', a small, unadorned paper with just the party's utilitarian symbol of broom on it, declares at the door, going on to list the names of those allowed in. At the top is Arvind Kejriwal. Other names have been scribbled on later. Since December 8, many of them are among those trying to decipher AAP for excitable TV channels.
***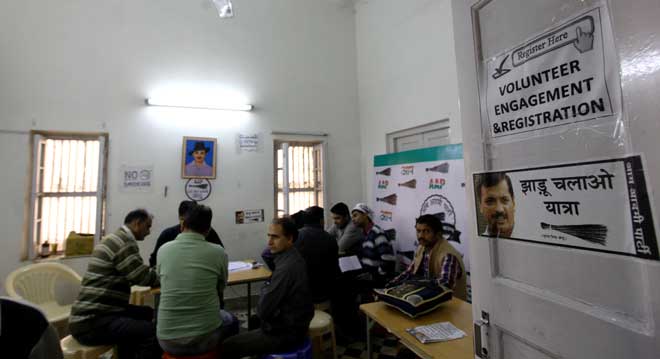 Pankaj Gupta, among those with access to the 'War Room', says the battle began with mobilising resources. Following the formation of AAP, party members say, there was "a lot of goodwill" but this was not translating into financial assistance. "On the first day, Shanti Bhushan gave us Rs 1 crore. That was enough to begin work. An online portal was launched in January," says Gupta.
Soon after the online fund-raising campaign was kicked off, donations started pouring in. "In the beginning, we would collect around Rs 1 lakh on one day," Gupta says. However, afraid there would not be enough for the party to contest the polls, AAP launched an e-mail drive. "The amount jumped to Rs 3-4 lakh," says Gupta, "still not enough".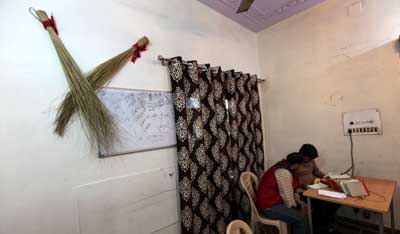 At the same time, he adds, they were conscious of finding a balance between