First things first. This is a phone from Micromax, but it does not look like a phone from Micromax. In fact, it looks like a phone from a well-heeled international brand, the sort that Micromax wants to become in the near future. This is the Micromax Canvas Knight, the phone that will take over the flagship mantle for the company from today.
Quick Tech Specs: 5-inch IPS display (1920×1080 pixels, 443 ppi) | 2GHz Tru Octa core MediaTek MT MT 6592 processor | 2GB RAM | 32 GB storage + no microSD slot | 16MP rear camera, 8MP front camera, 1080p Full HD video | 3G, Wi-Fi 802.11 b/g/n, Bluetooth 4.0 | 2350mAh battery | Android 4.2 JellyBean
Price: Rs 19,999
Design: As I said this phone does not look like a Indian phone. In fact, it has the cuts and sides of the Apple iPhone 5s and even reminded me a bit of the Lava Iris Pro 30, which also had a similar design language. The unibody design is reinforced by what seems, and feels, like a graphite frame. There are mico-SIM slots on both sides that can be accessed by a pin. And, no there is no space for a SD card. Another thing that sets this phone apart is the power key, that is now placed along with the volume keys on the right. This take a bit of getting used to.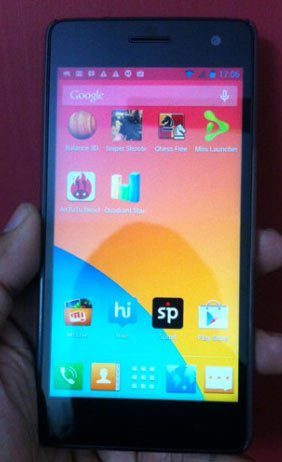 The camera, the 16 MP sensor that it houses, results in a significant bump on the rear and there is an extra rear cover to sort of protect it. This feature is a bit like the one on the Nokia Lumia 502 and it becoming common in slim phones with large cameras. The phone is very light and easy to handle despite the large screen.
Screen & Audio: The Full HD IPS panel is one of the best features of this phone. To start with, there is hardly any light bleed on the sides. The phone can be bright enough to be legible in bright sunlight. The audio quality is good, but not great. The overall experience, however, is quite good.
Performance: This is a Tru Octa core phone. So performance should not be, and is not, and issue at all. In fact, the Antutu benchmark scored it in the top draw and exclaimed 'amazing'. Yes, that doesn't mean much for an average used. What