Microsoft Corporation's new chief executive Satya Nadella got off to a winning start as the world's largest software company eased past analysts' profit estimates despite the pressure of falling computer sales.
Results from Microsoft Corporation's first quarterly earnings release under new CEO Satya Nadella offered fresh justification for his focus on cloud computing.
Factoring out special items from a year ago, revenue in the January-March quarter grew 8 per cent.
Nadella, who replaced longtime CEO Steve Ballmer in February, touted the fact that revenue from cloud-based Office 365 productivity software more than doubled from commercial customers, while revenue from its cloud computing service Azure grew more than 150 percent.
''This is gold rush time in being able to capitalize on the opportunity,'' Nadella said.
The Redmond, Washington-based company reported quarterly profit of $5.66 billion, or 68 cents per share, compared with $6.05 billion or 72 cents in the year-ago quarter.
The decline was exaggerated by deferred revenue boosting the year-ago figure, and the latest quarter's profit beat Wall Street's average estimate of 63 cents per share
Microsoft's stock rose 76 cents, or 1.9 percent, to $40.62 in after-hours trading. That followed a 17-cent gain to $39.86 in the regular session.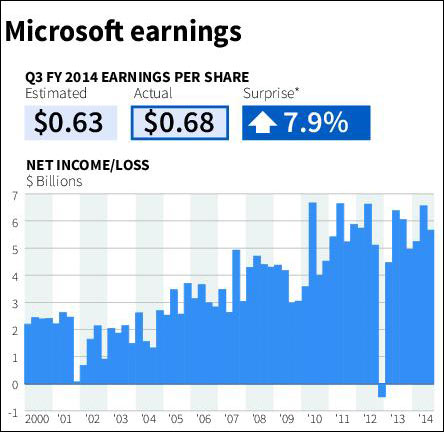 ''It's a good first quarter of earnings for Satya out of the box,'' said analyst Shannon Cross of Cross Research. ''This was enough to offset concerns that investors might have had that growth was slowing or the impact Amazon or other competitors might be having on the cloud strategy.''
The company also benefited from the end of support for its 13-year-old operating system, Windows XP, on April 8. Many companies paid to upgrade computers en masse to make sure they'd continue to receive support from Microsoft, including anti-virus updates.
That transition - which contributed to a 4 percent increase in Windows revenue- helped Microsoft buck a 2 to 4 percent decline in personal computer shipments in the quarter as estimated by market research firms Gartner and IDC.
Chris Suh, Microsoft's general manager of investor relations, said it was hard to tell how much Windows revenue benefited from the end of XP. But he said about 10 percent of all Windows computers are still running XP, meaning the company would likely continue to benefit going forward as the remaining users pay to upgrade or buy new computers running newer versions of Windows. ''It's