The Indian stock market euphoria over a favourable Lok Sabha elections outcomes finally seems to have spread to the mid-cap space. While the pack was lagging the blue-chip Sensex since mid-February, hopes that the BJP-led National Democratic Alliance is likely to steer the poll tally have pushed the mid-cap index to match the BSE Sensex returns.
Check Live Updates: BSE Sensex
During the last six weeks, the BSE mid-cap index has rallied 9.6%, replicating a 10% increase recorded by the Sensex. On a year-to-date basis, though, it is still lagging the latter.
According to Deutsche Bank, mid-cap stocks tend to rally sharply when economic growth is expected to be at an inflection point.The brokerage says that while the jury is still out on the pace of economic recovery, the mid-cap rally is likely to extend further, given that growth has bottomed out, currency has stabilised and the twin deficits have shown a marked improvement.
These factors should be favourable for an economic recovery, which could be further bolstered by a decisive electoral outcome.
An extension of the latest run in these stocks cannot be ruled out, given that both in 2004 and 2009, mid caps outperformed large caps in a pre-election run-up. Back then, a month ahead of elections, the BSE mid-cap index had outperformed the Sensex on average by 5%.
In a recent strategy report, Citi, in a risk-on scenario, highlighted that investors who believe that the NDA alliance may come to power should go aggressive on domestic and mid-cap-focussed portfolio.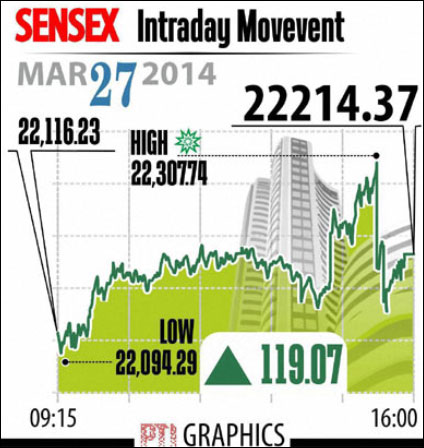 As per Pankaj Murarka, senior fund manager with Axis AMC, the latest rally in the mid-cap space reaffirms the recovery in the broader market as the Street starts factoring in an improvement in the economic growth and a likelihood of a stable government after elections.
"During every market cycle, as the economy gets back to a higher trajectory, mid caps deliver higher returns than large caps," added Murarka.
Notwithstanding the latest run during which nearly half of the BSE mid-cap constituents have outperformed the market, broadly the Street maintains a cautious stance on mid caps due to decayed financials of the space as a whole.
Unless signs of economic recovery are corroborated with a turnaround in the indicators like GDP growth and interest rate cycle, it may take time for the investor interest to come back to the mid-cap