Both HDFC and HDFC Bank trade at attractive multiples after the recent selloff in India. Markets will affect their near-term stock performance, but they are well-placed to do well. Balance sheets are strong and EPS (earnings per share) growth is likely to stay strong. We view this selloff as a great opportunity.
The recent selloff in Indian banks has affected good as well as weak banks: Viewed broadly, the selloff for the group is justified given corporate loans and the state of these corporate balance sheets. Investors don't trust book values–and rightly so, in our view, given the amount of 'extend and pretend' taking place on bad loans. However, not every bank is equally exposed.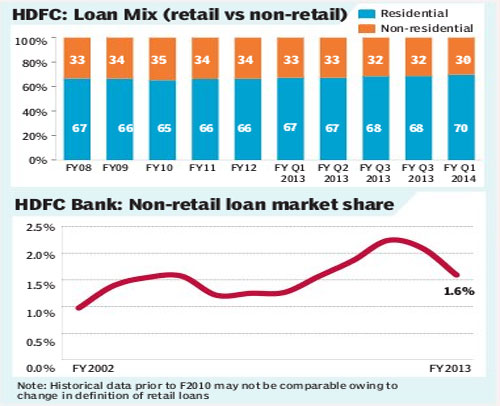 The balance sheets of HDFC and HDFC Bank are extremely strong: Unlike most of the other Indian banks, loan quality for these two is impeccable. Moreover, capital ratios are best in class, and profitability is very high and improving. Hence, the indiscriminate selloff has created an opportunity to own good businesses at fairly attractive multiples. The stocks could get cheaper, but we would own them from a longer-term perspective.
A legitimate concern is slowing growth: Till now retail loans have held up very well on growth and asset quality. The concern is whether they show weakness. We expect asset quality to remain strong, given low trailing growth for the system. However, growth will likely slow for the system. But given the state of competitors' balance sheets, we expect these two to gain share.
High teens/20% loan growth, plus strong asset quality should help EPS growth: We expect FY13–FY15 CAGRs (compound annual growth rate) of 17% for HDFC and 24% for HDFC Bank. It's tough to find lenders with similar growth profiles and low risk to book. For HDFC, the subsidiaries are also doing very well (now ~30% of consolidated profits). Risks are a large-scale increase in unemployment and a sharp decline in property prices in India.
Investment case: In a weak market, the good get sold down with the weak–the absolute performance of HDFC and HDFC Bank over the last 12 months epitomises this. Both are doing very well in their respective businesses and have extremely strong balance sheets, yet their 12-month absolute performance has been weak. This has come against the backdrop of continued earnings compounding–as a result, their P/E (price-to-earnings) multiples are almost one standard deviation