Movie Review: Main Tera Hero
Star Cast: Varun Dhawan, Arunoday Singh, Ileana D'Cruz, Nargis Fakhri, Rajpal Yadav, Anupam Kher, Saurabh Shukla, Evelyn Sharma, Manoj Pahwa, Shakti Kapoor
Director : David Dhawan
Ratings: 1 ½ stars
A beefy cop besotted by a college girl goes about spouting knock knock jokes. Taking a cue from him, I'll start with one of mine. Knock knock. Who's there? Err, me. Me who? Me trying to hoot, that's who.
I did manage to find a few laughs in 'Main Tera Hero', David Dhawan's showcase created solely for his son Varun, but it was hard work. Because this is David precariously close to making my eyes glaze over, with long stretches of flatness, and forced laughter.
The film may be a Telugu remake, but the template is very Dhawan, with the usual mix of buffoons and goons and mistaken identities playing 'I spy' in a Bangkok hotel masquerading as a home.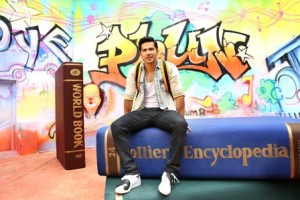 Varun tries everything in his repertoire to be this hero: he fights, dances, and tries to be funny, topping it all up with a man-boob-mobile-nipple moment.
Layabout Seenu (Varun Dhawan) reaches Bengaluru with the single aim of earning a college degree. Instead, he starts chasing the pretty Sunaina (Ileana D' Cruz), who is being menaced by a tall, burly policeman (Arunoday Singh). A rival for Seenu's affections pops up, in the shape of the curvy, lippy Ayesha (Nargis Fakhri), and things get complicated.
That heroes will float around Bollywood colleges without hefting a single book is a very old story: nary a one is to be seen here, nor a classroom. That they will leap from one idiocy to another is equally old. There was a time when Dhawan's brand of idiocy was sublime. The good Govinda fronted for him, David used his superlative editing skills to keep up a rat-a-tat-pace, and we all happily rolled down the aisles. But it's been a while since Dhawan hit his stride.
'Main Tera Hero' is not as ghastly as a few recent Dhawans have been, but only because it takes itself not at all seriously, and becomes as silly as it should be for some of the second half .The rest of it has its share of the usual unsightly and tasteless gags about women and protruding body parts and the mandatory fat guy in a wheelchair.
"Purani haveli ke paas chikni chameli" is equal to "oh, this