Mumbai, the financial capital of the country, has scored the lowest ranking in the Asia-Pacific in the latest competitiveness index for global financial centres (GFC).
The Global Financial Centres Index (GFCI), the 15th in a series since March 2007, listed 23 financial centres from Asia with Mumbai in the last spot from the Asian region. While Mumbai lost four positions to 76, five of the Asia-Pacific centres improved their positions; 10 declined in the rankings while one centre appeared on the index for the first time. Jakarta fell the most number of places — 14 — to 69th position, still better than Mumbai. Busan in South Korea moved onto the league table for the first time, coming in at 27th. Four Gulf cities, including Dubai and Qatar, are ahead of Mumbai. Shenzhen in southern China was the biggest gainer jumping nine places to 18th position.
Even as Mumbai has moved backwards, the report of a government-appointed committee headed by former World Bank official Percy Mistry, which suggested ways to make Mumbai a GFC on the lines of New York, London and Singapore by 2020, is gathering dust.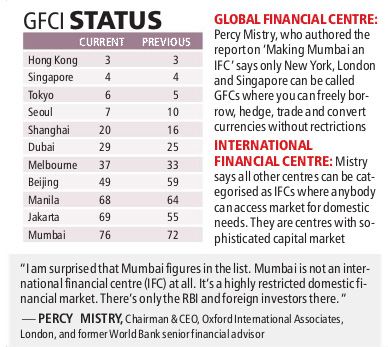 The Mistry panel report on 'Making Mumbai an International Financial Centre' recommended in 2007 that in the first phase (2007-2012) Mumbai must connect India's system with the world's markets through international financial services. In the second phase (2012-2020), Mumbai must develop the capacity to compete with the three established GFCs for global IFS business that goes beyond meeting India's needs. After 2020, Mumbai would hold its own in competing with the other GFCs and acquire increasing global market share, it said.
However, nothing has moved in this direction. "The governments have not done anything to make Mumbai an IFC. Mumbai remains a closed market," said Mistry, chairman and CEO of Oxford International Associates, London. Mistry also mooted a separate governance structure for Mumbai city. "We need a strong governance structure on the lines of New York, London or Hong Kong," he had said.
Meanwhile, Hong Kong and Singapore maintained their 3rd and 4th positions, respectively, compared to the previous published GFCI six months ago. Globally, New York was rated No 1, overtaking London for the top spot for the first time since the GFCI was published. The GFCI report noted that the leading Asian centres are pulling away from the weaker.
There is a 'shakeout' in Asia with the leading