The appetite for mutual fund fixed maturity plans (FMPs) has been on a steady decline since the first quarter of 2012, with short-term interest rates coming down significantly since March.
The investor appetite for FMPs remained strong in the first quarter of calendar year 2012 with cumulative mobilisation of about Rs 55,000 crore.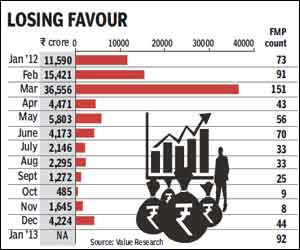 New fund launches, however, declined about 70% to 152 in the second half of 2012 from 484 in the first half. More than 600 FMPs were launched in the full year 2012 that cumulatively collected about R80,000 crore. As on January 31, 2013, the assets under management of FMPs totalled R97,462 crore, a decline of about 9% from R1.07 lakh crore of assets as on July 31, according to data sourced from Value Research.
The yield curve was a bit inverted in March, with short-term interest rates being high, making FMPs quite lucrative at that juncture, according to Morningstar India. After March, however, short-term interest rates came down quite significantly, and so did the appetite for FMPs. For instance, one-year CD rates are now hovering at about 9.30% levels from about 10.5-11% in March.
"With interest rates starting to decline in 2012, and with further rate-cuts anticipated by the RBI going forward, investor appetite for FMPs dropped considerably, after the month of March 2012," said a report by Morningstar India.
High networth individuals started to move their investment to durations funds, such as dynamic bond funds, short-term bond funds, medium-term bond funds and income funds as interest rates started to soften during the year, said experts.
"A lot of smart money moved from FMPs to duration funds in anticipation of a decline in interest rates in the second half of 2012," said Rahul Pal, head, fixed income, Taurus MF. In 2012, dynamic bond funds and income funds gave average category returns of 10.25% and 9.88%, respectively.
However, the interest in FMPs is likely to go up again during the January-March quarter owing to the double indexation tax benefit offered by such funds, said experts. FMPs are typically preferred by investors in a rising interest rate scenario, since they are able to lock into high yields, and provide more stable and predictable returns to investors at the time of maturity.
During 2011, FMPs had made a record mobilisation of R1,19,000 crore with close to 700 FMPs launched as interest rates and bond yields rose for most part of 2011— making