Assets of monthly income plans (MIP) shrunk one-fourth their size in 2012 over the year-ago period as long-term investors in the schemes redeemed their investment owing to poor returns by MIP schemes in 2010 and 2011.
MIP assets shrunk 26% to R9,691 crore in 2012 compared with R13,173 crore in 2011. Assets of most schemes fell 30-40% with the assets of the largest scheme Reliance MIP falling 35%. Of 59 MIP schemes, 44 saw a decline in assets, according to data collated from Value Research.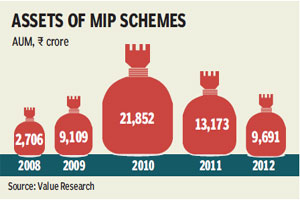 With the benchmark equity indices giving returns of over 25% in 2012 and debt markets also yielding good returns, these funds were in a sweet spot in the year. MIPs with equity component of less than 30% gave average returns of about 13% in 2012 compared with subdued returns of 1.56% in 2011 and 7.5% in 2010, according to Morningstar India.
"Considering that interest rates were expected to fall in 2012, investors should have pumped in money in these schemes. But investors' decision was swayed by past returns," said Akshay Gupta, CEO, Peerless MF. According to experts, MIP investors typically invest for the long term and they overlooked this near-term opportunity to profit from falling interest rates. MIPs are debt products with an 80:20 allocation towards debt. Some aggressive schemes, however, could even allocate 35-40% of the portfolio towards equity.
According to market observers, it makes sense for investors to invest into pure fixed income products in 2012 as most of the debt categories gave more than 9% returns in the year. "Most distributors were advising clients to move money from MIPs to duration and gilt funds," said the fixed income head of a large fund house who did not want to be quoted. In 2012, gilt medium & long term funds gave average category returns of 10.5%, and Income funds gave returns of 9.8%.
The fixed income head added that duration products enjoy a cost advantage of 70-80 basis points over MIP schemes on a weighted average basis, which could have also influenced investors' decision. Short-term income funds typically charge between 0.5-1% as expense ratio, long term income funds charge 1.1-1.7% as expenses, while MIP schemes charge more than 2%.
Investors also moved their money into fixed deposits, tax-free bonds, company deposits, and retail NCDs which were giving returns of between 10-12% in 2012, according to experts.
Stocks More on