Prime Minister Narendra Modi's government disappointed markets with its first major economic policy statement on Tuesday, promising to seek foreign and private funding for the railways but giving no details of how it would lure investors.
Investors had harboured expectations for Narendra Modi's government to use the railways budget - which precedes the full federal budget by two days - to detail widespread reform.
India's state-owned railways are the fourth-largest in the world. They have suffered from years of low investment and populist policies that have kept fares low.
But that has turned a once-mighty system into a slow, badly-congested network that crimps economic growth.
The railways cost the government around 300 billion rupees ($5 billion) a year in subsidies and spend 94 percent of revenues on operating costs, leaving next to nothing for investment.
"The bulk of our future projects will be... by the PPP model," Railway Minister Sadananda Gowda told India's parliament in his first budget, referring to public-private partnerships.
Gowda's speech promised to get the railways' finances in order, complete long-delayed projects, seek cabinet approval for a long-standing plan to allow foreign direct investment and jumpstart ambitious plans for high-speed rail.
The budget contained some minor measures, such as a greater use of "mechanized laundries" to eliminate the washing by hand still employed to clean much of the bedding on sleeper trains.
But it was short on details of how the wider goals would be met and how Gowda would get foreign companies such as Bombardier and General Electric to invest.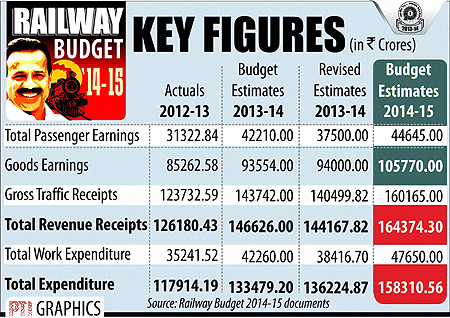 Indian stocks fell sharply following Gowda's speech, with the benchmark index closing down 2 percent after the government dashed investors' hopes for greater spending on the railways, while bond yields rose.
The government revised up planned spending to 654.45 billion Indian rupees for the year ending in March 2015, an increase of 1.8 percent from an interim budget prepared in February by the last government.
It calculates investment in the network through public-private partnerships in 2014/15 to total 60.05 billion rupees, more than in the interim budget, but a fraction of the cash needed to overhaul the network.
RELIC OF BRITISH RULE
India's use of a railway budget separate from the national one is a relic of British rule, when the network was the country's major industrial asset and a major revenue earner. Finance Minister Arun Jaitley presents the full federal budget on Thursday.
"There