Narendra Modi doesn't only believe in big business, he also wants small and medium enterprises to thrive. And, he wants a nation of budding entrepreneurs, for which he is creating a sovereign fund. India's prime minister makes no secret of his ambitious infrastructure blueprint, his strategy to kickstart growth and his endeavour to put a roof on as many heads as possible. But he's pragmatic enough to know he can't do it without roping in private and foreign investors.
In what is clear evidence of the NDA government not just wanting to create jobs and skilling people, but also giving entrepreneurship a big boost, Thursday's Union Budget provided a generous sum of R10,000 crore to promote start-ups. The fund will help supplement the equity capital of small ventures and assist them with soft loans and quasi-equity products, and, if implemented properly, thousands of aspiring entrepreneurs, with sound business proposals, should get a leg-up.
Indeed, Thursday's Budget reflected much of Modi's vision, and the schemes were backed by a generous allocation of resources with measures outlined to ensure funding in the future. The NDA government is conscious it cannot achieve the targets on it own. Which is why Modi's mission—8,000 km of roads will be built this year, as will hundreds of affordable homes—is to be accomplished with support from the private and foreign sectors. Not just that, the NDA government will also tap into the savings of small investors to help fund the country's infra rollout. Banks will be permitted to raise long-term infra bonds, which attract minimum statutory requirements, so that the funds are cheaper and can be lent at affordable rates. Moreover, real estate investment trusts (REITs) will be given a favourable tax treatment—there was a fear of these being doubly taxed—a move that should entice foreign players to invest.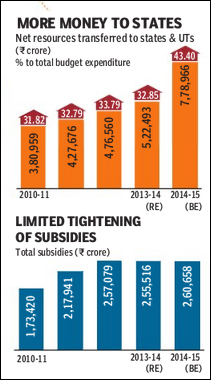 The government, however, is well aware of the pitfalls of the public-private partnership (PPP) model. Which is why, in addition to making generous allocations for the infra space—roads alone will get R37,880 crore this year—Thursday's Budget also announced a new entity, 3P India—with a corpus of R500 crore to help resolve issues that have de-railed PPP projects. "We have also seen the weaknesses of the PPP framework, the rigidities in contractual arrangements, the need to develop more nuanced and sophisticated models of contracting and develop a quick dispute