Indian Railways on Friday increased passenger fares by a steep 14.2% across classes and freight charges by 6.5% to mop up some R8,000 crore over a year. Prime Minister Narendra Modi had recently talked about taking "tough decisions and strong measures" aimed at financial discipline, key to economic recovery.
Passenger fares were last hiked (by 20%) in January 2013,ending 10 years of status quo in rates that hit the national transporter's finances.
As for freight, the six-monthly fuel cost adjustment was reflected in rates in March 2013 and later in October. The UPA government was planning to effect further hikes in passenger fares and freight in May last year but could not do so because the electoral code of conduct came into force.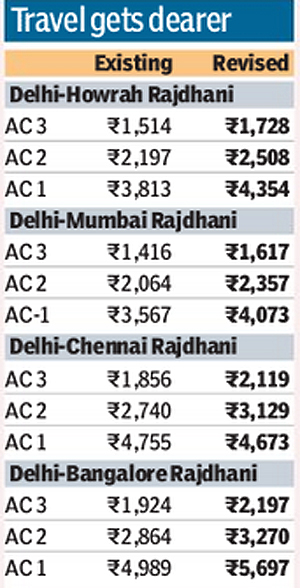 The new railway minister Sadananda Gowda, after discussing the matter with the prime minister, has allowed the railways to go ahead with the fare hikes even before the presentation of the Railway Budget slated for early July. Friday's freight hikes include not only the fuel adjustment component (FAC) but additional fare increases over it, although the railways has not given a break-up.
The new fares will take effect from June 25.
Cement, steel and other decontrolled industries that use the railways for transportation of their products have opposed the freight hike, saying it will inflate their costs at a time when demand in the economy is sluggish and they are experiencing severe pricing pressures. The coal industry, the single biggest source (40%) of freight revenue for the railways, is in a relatively better position to pass on the extra cost to consumers due to the lack of competition in the sector, but consuming industries like power and cement, already hit by the strained availability of the fuel, would doubtless resist it.
As for the fertiliser industry, another key user of the railways, the burden of the fare hikes would partly come back to the government as the prices of these products are heavily subsidised by it. An increase in the cost of foodgrain transportation can add to the government's food subsidy cost.
Sonal Varma, economist at Nomura Research, said, "The fare hikes will add slightly to inflation in the near term. The rise in passenger fares will add around 10 basis points to CPI inflation, while there will be a limited indirect impact on the CPI from the freight hike.