Industrial groups put up a brave face after the Reserve Bank of India decided to give out only two bank licences on Wednesday. The licences to IDFC Ltd and Bandhan Financial Services will raise the number of banks in India to 90.
Also read: Bandhan Financial, IDFC win banking licences, India Post in the queue
The RBI, however, held out a promise that entities, which did not qualify in the current round, will be able to apply afresh. "RBI believes that some of those entities, which did not qualify in this round for a full-fledged banking licence, could well apply in future rounds or could apply for differentiated licences under the proposed framework", a release issued by the central bank noted.
Nirmal Jain, chairman of India Infoline, one of the permit aspirants said, "We are not disappointed as this is only the first set of licences and RBI has promised that going forward it will be on-tap." The big industry names which had applied included Reliance Capital of the Anil Ambani group, the Aditya Birla Group, Bajaj Capital and Larsen & Toubro.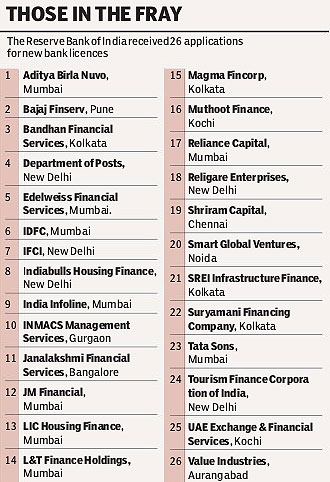 Shinjini Kumar, India head-Banking & Capital Markets, PWC, said, "Hopefully, from now on, the RBI will issue bank licences more frequently." The RBI release stated that the two chosen companies were suitable for "in-principle" approvals based on the clearance given by the high- level advisory committee (HLAC) under former RBI Governor Bimal Jalan.

The two will have an 18-month window to fulfill the guidelines stipulated by the RBI to offer banking services. "Until a regular licence is issued, the applicants would be barred from doing banking business," the RBI noted.

The HLAC had also recommended that in the case of Department of Posts, which has applied for licence, it would be desirable for the RBI to consider the application separately in consultation with the government. "The RBI has accepted the recommendation of the HLAC," it said.

There had been considerable opposition to the grant of bank licence to industrial houses within the RBI and outside. Some of the corporate houses which applied for the licence are facing investigation by various government agencies. For instance, chairman of the Aditya Birla Group, Kumar Mangalam Birla, has been named in an FIR in the coal blocks allocation case. "At a time when there is public concern about governance, and when it