a gap of 12 years. It last awarded permits to Kotak Mahindra Bank and Yes Bank in 2003-04.
The RBI said IDFC and Bandhan were recommended as suitable for grant of "in-principle" approval by the high-level advisory committee headed by former Governor Bimal Jalan.
The committee had recommended that in the case of Department of Posts, which had applied for a licence, "it would be desirable for the RBI to consider the application separately in consultation with the government."
Malaysia Airlines MH370 search ops given greater thrust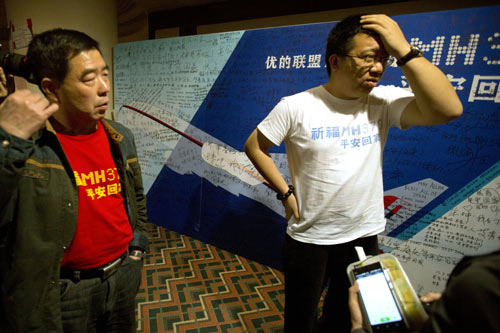 Steve Wang, a representative from the committee for relatives of Chinese passengers onboard the Malaysia Airlines MH370 talks to journalists after a closed door meeting with Malaysian officials via teleconference in Beijing, China. A Malaysian police investigation into the pilots of the missing Malaysian jet might turn up nothing, the force's chief said. while the head of the international search effort also acknowledged that an air hunt to spot wreckage on the surface of the southern Indian Ocean was not certain of success. The Chinese words on the t-shirts read 'Pray for MH370 safe return' (AP)