Infosys will see a massive overhaul in the composition of its board of directors as two of the remaining three founders of the company — SD Shibulal and S Gopalakrishnan — will cease to be members in 2015 in the company. In an investor call with Deutsche Bank on Wednesday, Infosys chairman Narayana Murthy said there will be changes in the coming months as SD Shibulal will leave in March 2015 and S Gopalakrishnan by April 2015, when they turn 60.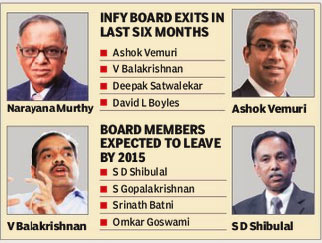 The Infosys chairman talked about the shakeout in the board room, attaching importance to the company's performance over the past three years. "We are not happy with the company's performance, though in FY14, we doubled our growth. But we are slightly short of industry growth rate."
"The company will strive hard to regain the original lustre," said Murthy. Shibulal's tenure as CEO will come to an end by March 2015 as he attains the age of 60 years and Gopalakrishnan will reach the same level as the executive vice-chairman, which is the retiring age for Infosys employees. The exit of these two founders will make Murthy the sole member of the original founding club.
Head of delivery excellence at Infosys and board member Srinath Batni will also retire by October 2014. Besides, these Infosys executives retiring from the board, the other independent director whose term will come to an end will be noted economist Omkar Goswami. His tenure will end by December 2015.
Starting from 2016, Infosys is likely to have fresh set of members on its board as there are existing vacancies with the resignations of Ashok Vemuri and V Balakrishnan. Besides, two other independent member David Boyles and Deepak Satwalekar, had retired as they had attained the age of 65, which is the norm for those who joined the board before 2010. Infosys has inducted two new members on its board — UB Pravin Rao, president of the company, and Kiran Mazumdar-Shaw, CMD of Biocon, as independent candidates. Currently, Infosys board comprises 13 members, including seven independent candidates.
The Infosys chairman also dropped enough hints that the next CEO would be an internal candidate as they strive to provide enough opportunities to people within. The new CEO will come in place by March 2015 with two presidents — BG Srinivas and UB Pravin Rao having emerged as the front runners.
On the