The HTC One might be the best smartphone you never heard of.
The phone won critical acclaim last year, yet it barely made a dent in the marketplace. It's overshadowed by Apple's iPhones and Samsung's Galaxy line of smartphones.
Also read: HTC upgrades HTC One phone, gives it larger screen, better software
Good thing HTC Corporation doesn't understand defeat. An updated One expands on some of the features that made it notable. The new One has a metal design like last year's model, but it feels smoother and more comfortable in my hands. The back edges are more curved and remind me of the sleek finish in Apple's latest iPads. HTC also turns its hub for personalized content, the BlinkFeed, into a companion rather than an unwelcomed guest.
HTC Corporation is making the Android phone available through all major carriers simultaneously this time, starting Tuesday online and by April 10 in retail stores. Verizon customers don't have to wait months, as they had last year. In an apparent concession, Verizon is the first to get them in stores - on Tuesday.
The new phone, known officially as HTC One (M8), will cost about $200 to $250 with a two-year service contract, or about $650 without a contract. Customers can choose gray, gold or silver.
The HTC One still has some flaws - namely, its 4 megapixel rear camera. By comparison, Samsung's Galaxy S5 phone, which comes out April 11, will have 16 megapixels. Sony and Nokia already have phones that exceed 20 megapixels. Apple's iPhones are at 8 megapixels, twice what the HTC One offers. More megapixels typically translate to sharper images and more options for printing and cropping.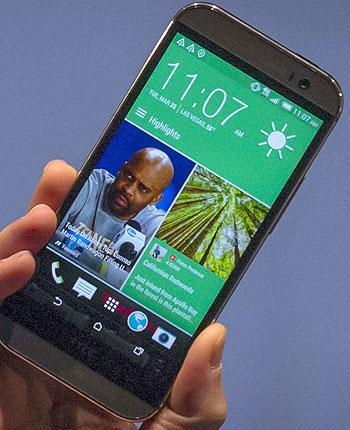 HTC Corporation is correct in saying the megapixel count is just one factor in what makes a good camera. It prefers making the size of individual pixel sensors larger to absorb more light for night and indoor shots. That's laudable, but Apple's iPhone 5S and Nokia's Lumia Icon are both able to offer decent low-light shots while providing more megapixels than the One.

Compared with last year's model, though, the One's camera is much better, even at 4 megapixels. Colors look washed out in day shots I took with last year's camera. The new model seems to have fixed that. The new version also has a 5 megapixel front camera for selfies,