Samsung's new smartphones aren't getting bigger, but one will have a side display for quick access to the flashlight, Twitter, news and frequently used apps.
The Galaxy Note Edge was announced at a trade show in Berlin on Wednesday, alongside the new Galaxy Note 4 phone, which lacks the side screen, and a virtual-reality headset called Gear VR. They are due for release this fall, in time for holiday shopping, and aim to compete with Apple's new iPhones due to be unveiled next week.
The Edge uses Samsung's flexible-display technology, which came out with much fanfare last year but has seen little use beyond a phone and a fitness device with displays that were slightly curved.
With the Edge, the Korean electronics company is offering a practical use for the curvature. While the main screen remains flat like previous phones, the right edge extends and curves until it reaches the back. That creates a side display so information such as weather and time can be seen from the side when the phone is laid on a table - such as a nightstand next to the bed.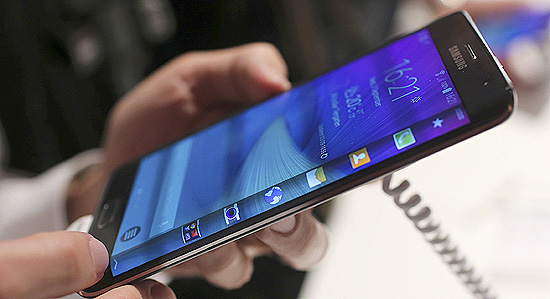 A visitor holds a new Samsung Galaxy Note Edge smartphone after its presentation ahead of the IFA Electronics show in Berlin. (Reuters)
With the side display, the phone's camera functions more like a stand-alone, point-and-shoot camera, as the shutter button and other functions appear on top when the phone is held horizontally. Developers of other apps will be able to specify how the side display gets used.
The side display also provides one-tap access to various apps normally found on the home screen, as well as to functions such as the flashlight and the stopwatch, akin to what Apple offers in the iPhone's Control Center with a swipe up from the bottom.
Samsung didn't announce prices or specific release dates. In the U.S., last year's Galaxy Note 3 went for about $700 without a contract, or $300 with one. Prices are likely to be similar when the Note 4 comes out in October through all four national carriers in the U.S. The Edge will likely cost more. The Edge and the VR will be out some time in the fall.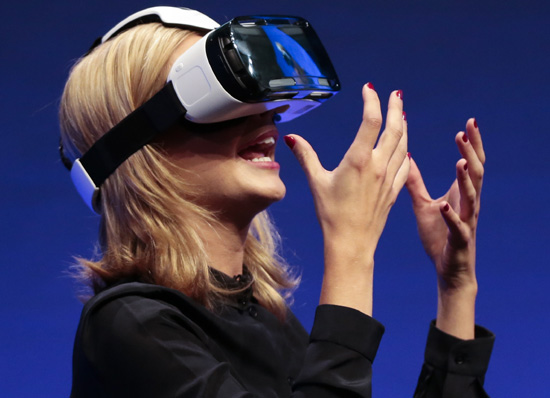 British TV presenter Rachel Riley shows a virtual-reality headset called Gear VR during an unpacked